H.R.4391 - Promoting Human Rights by Ending Israeli Military Detention of Palestinian Children Act, sponsored by Betty McCollum (D-MN-4) was introduced in the House on Nov 14, 2017. It would end U.S. support of Israel's child abuse.
Betty McCollum official photo
(
Image
by
(From Wikimedia) US House Office of Photography
, Author: US House Office of Photography)
Details
Source
DMCA
Abuses in the West Bank have been in the spotlight recently due to the imprisonment of Palestinian teen Ahed Tamimi in mid-December, 2017.
Only an hour after Israeli soldiers shot her 15-year-old cousin in the head, 16-year-old Ahed Tamimi slapped them in an effort to remove them from her family's property. (One report says that in the full video, it can be seen that the soldiers slapped her first, and that Israel-sympathetic videos show versions with this first slap edited out.)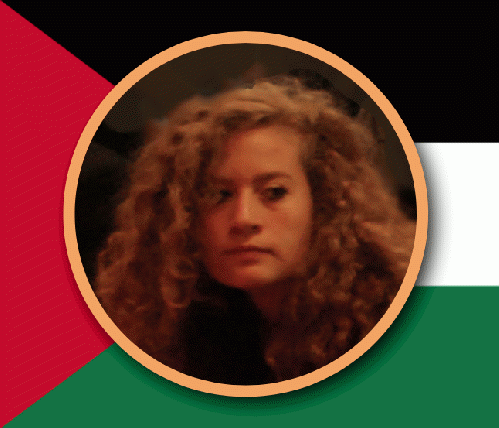 Ahed Tamimi
(
Image
by
Alberto Hugo Rojas via Flickr
)
Details
DMCA
A couple of days later, in a nighttime raid on Ahed's home, Israeli soldiers removed her and put her in prison. Bail was denied.
The conditions under which she is being held appear to be in violation of international humanitarian law.
CODEPINK said that Ahed was being held in "a freezing cold isolation cell with a camera monitoring her every move."
An Israeli journalist has publicly called for her to be raped while in prison.
Current estimates indicate at least 350-375 Palestinian children are being detained in Israeli prisons.
You can help by telling your representatives to support H.R.4391:
HR 4391 Bill Summary:

This bill prohibits U.S. assistance to Israel from being used to support the military detention, interrogation, or ill-treatment of Palestinian children in violation of international humanitarian law or the use against Palestinian children of: (1) torture, inhumane, or degrading treatment; (2) physical violence or psychological abuse; (3) incommunicado or administrative detention; (4) solitary confinement; (5) denial of parental or legal access during interrogations; or (6) force or coercion to obtain a confession.

The Department of State shall annually submit to Congress: (1) a certification that none of the funds obligated or expended in the previous fiscal year for assistance to Israel have been used to support any of such activities; or (2) if the State Department cannot make such certification, a report describing each activity and the amount of funds used by Israel in violation of this bill.

The State Department shall include in each annual report on the barring of development assistance to a country that engages in human rights violations a description of the nature and extent of detention, interrogation, or ill-treatment of Palestinian children by Israeli military forces or police in violation of international humanitarian law.
Paul Clements, running for Congress in Michigan, notes that in his district, in addition to contacting their representative, activists are making Valentines to send to Ahed in prison.
(Note: You can view every article as one long page if you sign up as an Advocate Member, or higher).