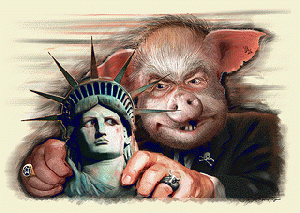 Corporate Threat to Liberty (Painting)
(
Image
by
DonkeyHotey
)
Details
DMCA
Caricature of the corporate threat to liberty
Trust, honor, respect, integrity, being truthful as well as searching for the truth- these are all important words to live by.
However these words do not apply or have any connection with our government in America.
Hopefully they do have meaning and connect with people, their family, colleagues and close friends.
As for our government, it's simply lies, propaganda, deceit, secrecy, hegemony and aggression camouflaged under the rubric of defending the nation and bringing with it righteous exaltations of celebratory triumphalism, knee jerk patriotism, rally around the flag and as always our military "defending us"- but really just additional indoctrination that began in elementary school with our "Pledge of Allegiance".
As for our stealing the land-well that was just "manifest destiny"- the white mans deceit in explaining his blatant land grab from the Native American peoples.
Slavery?-that was then- now it's "equal opportunity".
In a way, it's appropriate to have the American eagle as the symbol of America- nothing but a scavenger. It should have been the wild turkey but that would have been too honest.
Let's not forget American "exceptionalism" and its close cousin the sense of "entitlement" and us being the "indispensible nation"-funny how the rest of the world doesn't see us as indispensible, entitled or exceptional.
They see us- and the "us" is our government- as arrogant, full of hubris, "talk the talk" of defending democracy but hardly "walk the walk" when it comes to supporting all manner of authoritarian regimes, initiating illegal wars and occupations while resorting to the use of torture.
It may no longer be cowboy Bush exalting, "You're either with us or against us", but make no mistake if any country doesn't go along with our dictates they're threatened with sanctions and surrounded on the land and seas by our military. If you're "friendly", it's behind the scenes arm-twisting and threats of intimidation. And just to be absolutely sure, we conduct clandestine electronic surveillance on you and everyone else in the world; hey, we can't take any chances.
It wasn't always this way, but our triumph in W.W. II "sealed the deal". We were the lone superpower, our infrastructure untouched by the war and the great depression behind us.
And of course, there was the "Red" menace, Soviet Communism, that indispensible, necessary element, the "enemy" to justify the whole military/industrial/political complex.
But after the war there was also a need to "refine" and change some of our more coarse usages so for example the "War Department" became "The Department of Defense", a necessary deceit to camouflage our aggression-outwardly or clandestinely- to make it appear it all our actions were done as a means to defend the nation.
Outwardly, it took the Viet Nam war to debunk the "Domino Theory" and expose unmistakably our aggressive tendency which betrayed any notion our actions were done in defense of the country.
(Note: You can view every article as one long page if you sign up as an Advocate Member, or higher).