Articles Listed By Date List By Popularity
Page 1 of 13 First Back Next 2 3 4 5 6 7 8 9 10 View All
Saturday, July 15, 2017 (9 comments)

"Innocence is complicity" "Innocence is complicity" a quote from a old Chris Hedges column writing about Americans. We're a nation of many who see themselves as innocent, never mind complicit. That would require reflection. After the Snowden revelations came out revealing the NSA's electronic surveillance of Americans it didn't matter if it was illegal & un-Constitutional. To many Americans it was, "I haven't done anything wrong so why should I worry."
Wednesday, July 5, 2017 (6 comments)

Taking measures against an aggressive US war machine N. Korea test fired an ICBM missile yesterday that according to them could reach Alaska & Hawaii. The initial US response came from the top US Gen'l in S. Korea Vincent Brooks saying, Self restraint is the only thing stopping war in Korea. But N. Korea has only developed its missile & nuclear arms as a deterrent against a US attack especially against a US war machine that has repeatedly attacked non nuclear regimes.
Friday, June 23, 2017

"Interesting bromides" that entered the "American political lexicon" What may have we become as a people? Have we changed using what writer Jacob Hornberger says are "interesting bromides" as when we say to American soldiers, "Thank you for your service", "defending & protecting our country"? Because it's neither defending & protecting our country. Iraq & Afghanistan didn't invade our country. It should be "Thank you for your killing." The real service we do is killing people. Lots of people.

Wednesday, June 14, 2017

Resistance aplenty to May continuing as PM Yesterday was the opening day of the new parliament in Britain since the election on June 8. No business was conducted. Teresa May as PM must deliver the Queens speech to the MP's in the house on June 19 & they must give her a majority vote for her to continue as PM. May is negotiating w/ the N. Ireland DUP asking for the 10 seats they won to give her a 328 seat majority. It's not a done deal & the speech could be delayed.
Saturday, June 10, 2017

With Tuesday's vote in the House of Commons looming, Teresa May remaining as prime minister is certainly precarious What happened in Britain when people voted for a new prime minister? No party reached the 326 seat threshold. Teresa May's Conservative party got only 318 MP's elected so there's a hung parliament. But as the sitting PM as is protocol May went to Queen Elizabeth to present what's called the Queen's Speech". Then on June 13 May asks the new parliament to approve it for her to continue as PM. That's certainly not a done deal.
Tuesday, June 6, 2017 (5 comments)

An earth shaking election with worldwide implications On Thursday Britain's vote for a new prime minister. The current PM is Conservative Party head Teresa May whose party may win but not get the 326 seat majority threshold for her to continue as PM. In such case a new coalition gov't would have to be formed w/other minority parties. Labour's Jeremy Corbyn if he comes in a close 2nd could step in the breach, unite w/ other minority party members & make a run for the PM himself.
Friday, June 2, 2017 (3 comments)

Is Europe with France and Germany in the lead beginning to take an independent course away from "official" Washington? Pres. Putin visit this week w/ new French Pres. Macron may have serious implications. Macron wants improved relations w/ Russia taking an independent course away from Washington. He said, "Nothing can be tackled w/out dialogue w/ Russia" over Syria & Ukraine. Germany's Merkel said, "We Europeans must take our destiny in our own hands". Is Europe w/ France & Germany in lead taking an independent course away from Washington?
Tuesday, May 30, 2017 (3 comments)

Americans escape from reality It's a reoccurring nightmarish observation seeing "official" Washington's mindset operating under the illusion of its own exceptionalism acting against its "enemy" adversaries Russia, China, Iran & N. Korea. Country's rejecting US hegemony are portrayed as enemies & its leaders demonized & a new cold war started to justify the $trillion a year in defense spending. Yet most Americans escape from this dangerous state of affairs.

Monday, May 22, 2017 (10 comments)

Trump's speech in Saudi Arabia, stunning in its flight from reality Pres. Trump's speech in Saudi Arabia yesterday was absolutely stunning in its flight from reality condemning Iran while it's been "official" Washington as the primary perpetrator-along w/ his host Saudi Arabia is responsible for what Trump said, "fueling the sectarian conflict & terror in the world". He said, "Above all, America seeks peace-not war". Not true. America seeks war, not peace, something Trump couldn't acknowledge.
Tuesday, May 16, 2017

Neo-McCarthyism writ large over the American political landscape With all the harrumphing coming from the corporate MSM over Trumps firing of FBI Director James Comey last Tuesday & some Senate Dems likening it to the Nixon/Watergate era calling for a special prosecutor something about the whole affair came off as deliberately skewed. It's neo McCarthyism writ large over the American political landscape but there's no Edward R. Morrow to set the present dystopia straight.
Monday, May 1, 2017 (1 comments)

A dystopia in real time To the US gov't we the people are the enemy. Surveillance camera's everywhere, the ubiquitous If you see something say something to make us fearful of would be terrorists. All meant to keep tabs on us & w/ electronic surveillance of our phones & computers we're under constant surveillance. As for gov'ts explanation of nat'l & int'l incidents, "official" lies have become the natural order of things; a dystopia in real time.
Wednesday, April 26, 2017 (27 comments)

What's it mean to be a good American today? What's it mean to be a good American today? Be conservative, liberal, belief in God, a flag waving "patriot", extol our military? How about individuals & alternative web sites refusing to accept the conventional wisdom or jump on the bandwagon & reject the "official" versions of events? Are they good Americans? The US provokes country's refusing US hegemony. What about those who oppose such policies. Are they good Americans?
Wednesday, April 19, 2017 (2 comments)

US military confrontation with North Korea averted for the present, carrier task force now headed for the Indian Ocean According to "Defense News" a carrier the Trump administration announced as heading for the Korean peninsula in response to N.Korea's ballistic missile tests is heading for the Indian Ocean 3500 miles away from N.Korea. Considering all the bombast we heard lately about a show of force to confront Korean leader Kim Song un maybe sanity occurred in the Trump crowd & a potential military confrontation is averted for the present.
Monday, April 17, 2017 (2 comments)

The seeming disconnect of the American people of a nuclear conflagration and the US perpetrating the unthinkable Pres. Trump has sent a carrier task force toward the Korean Peninsula over N.Korea's recent ballistic missile tests. Sec'y of St. Tillerson said "the policy of strategic patience has ended" w/ the "military option on the table". Such US provocations have brought the world to the present crisis. What is most unsettling is the seeming disconnect of the American people to the real possibility of the US committing the unthinkable.
Monday, April 10, 2017 (2 comments)

Waiting for the next shoe to drop Now that President Trump has puffed out his chest w/ the MSM doing its part in triumphalism over his missile attack in retaliation for Syrian President Bashar Assad's alleged sarin gas attack last week, it just feels like waiting for the next shoe to drop. Oh sure this could be a one-time strike-a flexing of muscles & nothing more, @ least for now. But who knows what the "Donald" will do next?
Wednesday, April 5, 2017 (63 comments)

Something may be amiss immediately blaming Syrian government for Sarin gas attack As we know a sarin gas attack occurred in Khan Shaykhun, Syria on Monday killing some 58 people. Western leaders including Pres. Trump immediately blamed Syrian Pres. Assad. However the area around Khan Shaykhun is held by al Qaeda militants. The UN Mission Report of the sarin attack in 2013 confirmed "opposition" rebels used chemical weapons. Could this be another false chemical attack allegation against the Syrian gov't?
Wednesday, March 29, 2017 (19 comments)

A US war with nuclear armed Russia just got more ominous Perhaps it was inevitable US war w/Russia ominously about to come to pass in Syria. W/ Mad Dog Mattis as Defense Sec'y & HR McMaster as Nat'l Security advisor, both anti-Moscow hardliners the risk of a clash w/ Moscow just increased. As Mike Whitney sees it, "Either Russia ceases its operations in E. Syria or the US agrees to w/draw its US backed forces...there's going to be a collision between two nuclear armed adversaries."
Tuesday, March 21, 2017 (2 comments)

Unsubstantiated allegations aplenty, verifiable facts zero. Basically it's trust us Yesterday FBI Dir. Comey & NSA Dir. Rogers testified as witnesses before the House Intel Committee on "Russia's active interference waged against our 2016 pres. election. Unsubstantiated allegations aplenty; verifiable facts zero. Specifics are classified & issues can't be discussed. Basically it's trust us. This from an NSA that lies as a given & conducts illegal electronic surveillance of everyone including all Americans.
Thursday, March 16, 2017 (3 comments)

Is US openly making plans to assassinate N.Korean leader Kim Jong-Un? If true it's madness on steroids According to reports from Tyler Durden Zero Hedge the White House is making plans to take out N.Korean leader Kin Jong-Un including both military force & regime change. US policy makers have become mad. Who knows what Kim will do if he & his country are about be attacked by the US? He just might preemptively attack S. Korea, release a nuclear missile on Japan. Have the insane planners in official Washington thought about that?
Wednesday, March 8, 2017 (4 comments)

WikiLeaks exposes CIA Cyber Warfare Tactics WikiLeaks just released the CIA's uses of "malware, viruses, trojans" which appears an extension to the machinations it's been conducting since its inception in 1947 as successor the war time OSS. Considering the assassinations, overthrowing legitimately elected gov'ts, training & arming mercenary jihadists in Syria, the question begs what reason to justify its continued existence. There aren't any. It should be abolished.
Tuesday, February 28, 2017 (1 comments)

Defense spending edifice premised on "threats" and "enemies", without them the edifice collapses The White House has called for a $54 billion increase in defense spending. Details could possibly come tonight by Trump to a joint session of Congress. Is this what we need a nonsensical increase to an already bloated defense budget against contrived "enemies" that pose no threat to the US? The whole defense spending edifice the Deep State has erected is premised on "threats" & "enemies". W/out them the edifice collapses.
Wednesday, February 22, 2017 (5 comments)

"The Deep State is the big story of our time" Since the firing of Michael Flynn as Trump's Nat'l Security Advisor the Deep State's been in the news. Mike Lofgren 3 yrs ago on Bill Moyers & Co author of Anatomy of the Deep State said, There is another gov't concealed behind the one visible @ either end of PA. Ave, a hybrid entity, the American Deep State, relentlessly entrenched that allows them to escape the consequences of their ineptitude. Prescient words 3 yrs later.
Tuesday, February 14, 2017 (1 comments)

Playing with Fire Today neo-cons, R2P liberals & their neo-liberal fellow travelers are playing w/ fire using combative rhetoric, unsubstantiated allegations, lies, demonization, military provocations, threats of a blockade against Iran. China & Russia are strategic allies. A military attack on one would bring the others to their defense. China & Russia are nuclear powers capable of annihilating the US. It is madness to threaten them or Iran.

Saturday, February 4, 2017 (2 comments)

Take your pick Russia, China and Iran, All in the cross hairs of US machinations Take your pick, Russia, China & Iran. All are in the crosshairs of US machinations ranging from war like provocations @ their borders, fomenting internal dissent to bring regime change, hegemony over them or war. W/ Trump in the WH it's no different than if a Democrat was in charge. Nuances, bombast may be different but the ultimate strategy remains the same. The US needs enemies & Russia, China & Iran are the new enemies.
Tuesday, January 31, 2017 (1 comments)

Trouble ahead in the South China Sea Of the troubling aspects w/ Trump being president most troubling has to do w/ foreign policy & US provocations against China in the S. China Sea. The US protecting 'freedom of navigation" in the S. China Sea is a ruse for the US to insert itself in an area outside its sphere of influence. Now Trump's Sec'y of State designee Rex Tillerson said, "I would block access to the islands in the S. China Sea". There's trouble ahead.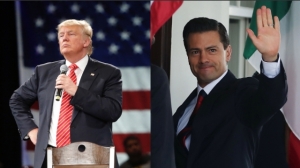 Friday, January 27, 2017 (2 comments)

Trump's latest "art of the deal", we build it, you pay for it After Pres. Trump signed an exec. order for construction of a wall w/ Mexico, they're having none of it. Mex. Pres. Enrique Nieto was to meet Trump next week but canceled the meeting when Trump insisted Mexico pay for the wall. The idea of Mexico having to pay for a wall entirely on the US side of the border is a bit of chutzpah to begin w/. Not for Mr. art of the deal himself, it's we build it you pay for it. Ah maybe not.
Monday, January 23, 2017 (4 comments)

Trump formally withdraws US from TPP Today Pres. Trump formally withdrew the US from the TPP, Trans-Pacific Partnership. The NY Times called it "a drastic reversal of decades of economic policy" essentially condemning Trumps action. How about the Democrats that have been against the TPP since Wikileaks released the text of the secret deal in October, 2015? Will they now join the Times in condemning Trump over w/drawing from the TPP or will they support his move?
Thursday, January 19, 2017

Defending your country? According to "The Saker" the mission of the Russian armed forces is to defend Russia & "The specific political objective given to the Russian military is quite simple: to deter or repel any attack against Russia". What exactly is the American military's mission? In Iraq the American soldier was told Saddam Hussein had WMD's, the primary reason given for the invasion. None were found. Thus the US military mission was bogus.
Friday, January 13, 2017 (4 comments)

Trump's latest "art of the deal", capitulation to the deep state It was probably inevitable. The idea Trump had the moral courage to w/stand the onslaught of the deep state was expecting too much. As Finian Cunningham relates Trump conceded Russia probably hacked the election & "That seeming turnaround by Trump signals the 'Donald' is being tamed to toe the 'official' Washington line." Does it matter who is Pres of the US, Repub or Dem ? Both are under the hegemony of the deep state.
Friday, January 6, 2017 (4 comments)

War mongers extraordinaire Senators John McCain & Lindsey Graham traveled to Ukraine during the holiday break & proclaimed, "2017 will be the year of offense" against Russian Pres. Vladimir Putin. They claim, "Our fight is not w/ the Russian people but w/ Putin". However, since over 80% of the Russian people support Putin any war against Putin is a war w/ Russia. And make no mistake these two war mongers are pushing for war w/ Russia.
Friday, December 30, 2016 (4 comments)

Absolute madness has gripped "official" Washington The nonstop demonizing of Russian Pres. Putin & nuclear armed Russia is absolute insanity. Madness has gripped official Washington w/ their arrogant exceptionalism believing Russia will eventually accept US hegemony or crumble under neo-con regime change. Trump is coming to power in 3 weeks. He says he wants to work w/ Putin but neo cons want no detente reset w/ Russia. The question is can Trump prevail over them?
Saturday, December 17, 2016 (61 comments)

Premeditated domestic crisis instigated by the CIA We may be heading for a presidential crisis of major proportions if Monday's electoral college vote is not finalized that day. Some 56 electors-all Dems except one-have requested a briefing on allegations Russia interfered w/ the election. One thing seems clear, the CIA precipitated a pre-meditated crisis w/ allegations of Russian meddling in the election; no proof given. We'll see if that crisis becomes a CIA domestic coup.
Thursday, December 15, 2016 (4 comments)

Trust the CIA? All the buzz from gov't & the MSM has Russia interfering w/ the presidential election helping Trump get elected. It's all attributed to a secret CIA report then leaked to the MSM. The only problem there's no evidence to substantiate Russia interfered w/ the election. So it's trust the CIA. The CIA lies as part of its makeup. Yet Dems & Hillary supporters are ready to overthrow the election over unsubstantiated CIA claims.
Thursday, December 8, 2016 (3 comments)

Lauding Dick Cheney, we've officially lost our moral compass A bust of former VP dick Cheney has been unveiled in the US Capitol w/ Dubya Bush gushing, "For 8 years Dick stood by my side & always did what was right for our nation". No. Cheney is a war criminal who along w/ the rest of the Bush crowd should have been prosecuted for war crimes & authorizing torture. Lauding Cheney this way reveals we've officially lost or moral compass; a perfect example of where America has descended.
Saturday, December 3, 2016

Why did it have to be this way? W/ all the indignation over the Washington Post resorting to McCarthesque scare tactics naming 200 web sites as presenting "fake news", disseminating propaganda or useful idiots of the Russians one may ask why did it have to be this way? It didn't. We have a constitution w/ freedom of the press. But today we have a free press in name only. It's now an unofficial organ of the state presenting only the gov'ts version of events.
Monday, November 28, 2016 (1 comments)

Stepping back from the brink Two positive things can be said of Trump ascending to the presidency. His saying he could work w/ Russian Pres. Putin & he doesn't support regime change in Syria. So the likelihood of a nuclear confrontation is diminished. A Clinton presidency would have been a prescription for continuing endless war & eventual confrontation w/ Russia & China. That not occurring has the world stepping back from the brink of nuclear war.
Monday, November 21, 2016

Trump's going to be president, get over it Trump becoming president is the reality & Hillary not elected is a good thing. Resets in domestic & foreign policy are coming. All the diseased rhetoric of the campaign is over. Trump working w/ Putin on Syria appears to be in the works. TPP appears dead & Trump may dump NAFTA. As to Russia & China a much needed detente may be forthcoming dispelling a possible nuclear confrontation. Something under Hillary could have happened.
Monday, November 7, 2016 (2 comments)

"Allegations" without factual evidence In America when the gov't alleges anything w/out factual evidence or evidence later found to be false it means the gov't was up to something. The 1965 Tonkin Gulf Incident was portrayed as American navy ships being attacked by N. Vietnam. It never happened. Yet the incident was the primary basis for expanding the Vietnam war. The same w/ Sec'y of State Colin Powell @ the UN in Feb. 2003 alleging Iraq had WMD. They had none.
Friday, October 28, 2016 (1 comments)

"Full Spectrum Dominance", a mirage? Full Spectrum Dominance, the Pentagon's plan to have military control over land, sea, air & outer space. Is it a mirage? It appears the plan has been effectively neutralized by Russia's advanced missile defense systems. Investigative journalist Pepe Escobar reports, "the Russian S-500 anti-missile system effectively seals Russia's air space". If so this effectively makes the Pentagon's Full Spectrum Dominance plan a mirage.
Wednesday, October 26, 2016 (4 comments)

Throwing off the shackles Considering US belligerence in the world since 9/11 it is something to behold Philippine President Rodrigo Duterte announcing in a state visit to China, "Your honors, in this venue, I announce my separation from the United States...both in military and economics also". Duterte's declaration throwing off the shackles of US hegemony is reminiscent of our own descendants throwing off the shackles of British colonialism in 1776.
Friday, October 21, 2016 (2 comments)

"All The News That's Fit To Print", Not America once had a free press. In the early 1970's the Washington Post exposed the Nixon Watergate conspiracy unraveling the affair that got Nixon to resign in disgrace. That's ancient history. The Post has since become a neo-con propaganda rag & regime change booster. It's not just the Post. The entire MSM in America has become an "unofficial" organ of the state masquerading as a free press and a handmaiden of the state.
Wednesday, October 12, 2016 (4 comments)

US continuing allegations against Putin and Russia The Obama administration is accusing Russia of cyber-crime trying to disrupt the US pres. election accusing Russia of a hacking campaign to interfere w/ elections alleging Moscow is trying to influence the outcome of the election. All unsubstantiated & no evidence given. It's meant to divert attention of Washington's complicity in illegal wars, covert subversion of foreign states & systematic collusion w/ terrorist networks.
Tuesday, October 4, 2016 (13 comments)

"We are on the brink of war with Russia" Madness reigns. How else to put it considering the vitriol coming from the west & specifically from the US demonizing Russian Pres Putin & nuclear armed Russia. This is simply insane. Last week Joint Chiefs Chairman Marine Gen'l Joe Dunford said, "We are on the brink of war with Russia" in Syria. A war w/ Russia in Syria could escalate into a nuclear conflagration. This is a most dangerous time.

Tuesday, September 27, 2016 (4 comments)

Military "incidents" in Syria, precursors for a wider war between US and Russia? Could it be military "incidents" in Syria since late August are the pre-cursors for a wider war between the US & Russia? One would never know it from the presidential "debate" last night. Yet several "incidents" have occurred in Syria that could very well be ominous signs the Syrian conflict could explode into a direct conflict between Russia & the US. "Incidents", real or false flag have been precursors to larger wars.
Wednesday, September 21, 2016 (5 comments)

Misrepresenting the facts Less than 2 weeks ago Sec'y of State Kerry & Russian Foreign Minister Lavrov worked out a cease fire plan for Syria. That plan was shattered when US planes bombed a Syrian army base outside of Deir Ezzor last weekend killing some 60 elite army troops & wounding over a 100. The Syrian gov't accused the US of a deliberate attack. The US called it an "accident". Finian Cunningham called it"a deliberate act of murderous sabotage".
Saturday, September 10, 2016 (14 comments)

The "Tyranny of 9/11" and the challenge to "The "official" Story" Tom'w marks the 15th anniversary of 9/11. Many terrible consequences have been brought about since that fateful day. John W. Whitehead's, "The Tyranny of 9/11, The Building Blocks of the American Police State A-Z" & Paul Craig Roberts, "The Tide is Turning, The Official Story is Now Conspiracy Theory" do much to challenge the "official" story of that day but also what has happened to our so called "democracy" ever since.

Wednesday, August 31, 2016 (1 comments)

Colin Kaepernick's protest As we know San Francisco 49er QB Colin Kaepernick refused to stand for the nat'l anthem before a game w/ the Green Bay Packers. Wanting to draw att'n over the killing of young black men gunned down by police & their later exoneration he stood by the courage of his convictions & refused to stand. He's unleashed a hornet's nest of knee jerk patriotic indignation. So what. Consciousness raising of the issue needed to be done.
Wednesday, August 24, 2016 (4 comments)

Preventing potential Hillary conspired "regime change" in Syria If Hillary Clinton becomes president she could escalate the war in Syria. The Pentagon has chimed in w/ telltale warnings of its intentions in Syria ready "to down Syrian & Russian planes" threatening US military advisers. Former CIA acting Dir. Mike Morell said the Iranians & the Russians should "pay a price", kill them "covertly" but make sure they know it in Moscow & Tehran." Regime change in Syria can & must be prevented.
Friday, August 19, 2016 (3 comments)

Has the "Deep State" overplayed its hand? What's it gonna take for the US people to get past the "Deep State" indoctrination they've been subjected to, recognize it as such & demand change? There is a realization from both left & right things are not so shiny from sea to shining sea. There's a fierce undercurrent of political consciousness w/ many Bernie supporters going w/ Green Party candidate Jill Stein; maybe the start of a political revolution in this country.
Sunday, August 7, 2016 (6 comments)

Fascism masquerading as a democracy Fascism is usually connected historically w/ Italy's Benito Mussolini, Spain's Francisco Franco & Germany's Adolph Hitler. Though unique all were right wing dictatorships, interconnected w/ the country's business interests, exercised absolute control over the media, backed by the military, prolific use of the flag & organized religion was complicit or kept silent. Today one country fits that criteria, the good ole US of A.
Friday, July 29, 2016 (3 comments)

Charlatans all The political conventions are over w/ each party's charlatan now formally in place. Clinton & Trump will spend the next 3 months in character assassination saying he, she is unfit to be the next president. No one w/ integrity has a chance of being elected much less nominated in our 2 party duopoly, beyond redemption & incapable of reform. Only a 3rd party rejecting corp. control could transform the current corrupt system.

Sunday, July 24, 2016 (11 comments)

Putin,"The world is being pulled in an irreversible direction" Washington continues to provoke Russia w/ recent NATO troop exercises in Poland & the Baltic states & in May placing ABM missiles in Romania. Russian President Vladimir Putin explains such ABM missiles can become offensive missiles aimed directly @ Russia "done simply by switching the software" further saying "the world is being pulled in an irreversible direction", meaning nuclear war.
Friday, July 22, 2016 (2 comments)

Is there any doubt things are politically "surreal" in the US Is there any doubt things are politically "surreal" in the US. The people running for president from the two major parties are the two most hated candidates ever nominated. Is that not surreal? Trump VS Clinton, is that not a surreal nightmare dream? The political process in the US is a joke where voting for the lesser evil is the primary basis for most people to vote.
Tuesday, July 12, 2016 (2 comments)

Today Bernie betrayed his supporters trust Today Bernie Sanders formally endorsed Hillary Clinton for president saying he'll "do everything I can to make certain that she will be the next president of the US". In April he called Clinton "unqualified" to be president. What changed that now makes her qualified? Is this not a betrayal of Bernie's supporters? I guess it was all campaign rhetoric. This is a sellout of the 1st order. Bernie betrayed his supporters trust.
Friday, July 8, 2016 (8 comments)

Who would be more dangerous, Hillary or the "Donald"? If these times were "normal", which obviously they are not, Donald Trump would be seen as a self important, egotistical buffoon, ridiculed as such & long gone from the scene. Hillary Clinton would easily be seen as war monger who could never be trusted with her finger on the nuclear button. Yet these are the major presumptive nominees for POTUS. In the final analysis who would be more dangerous, Hillary or the "Donald"?
Saturday, July 2, 2016 (1 comments)

Morally Bankrupt, US will now disclose "bystanders" killed each year in drone strikes The Obama adm. announced Friday airstrikes it has conducted outside conventional war zones have killed 64 to 116 civilian bystanders. "Bystanders" that's the NY Times word choice for innocents killed in drone strikes. Presumably its Obama's attempt @ transparency. For sure survivors of "bystanders" killed in Pakistan, Yemen, Somalia will now feel greatly relieved the practice will be disclosed. How's that for moral bankruptcy.
Wednesday, June 29, 2016 (5 comments)

Perpetuating endless war is America's growth industry Perpetuating endless war is America's growth industry. Produce endless war against endless enemies. Not to win. That would be the last thing we want. That would mean peace, no more enemies & no more war. Now Russia & China are depicted as enemies but they pose no real threat to America. They'd prefer cooperation & peaceful economic development w/ America & the world but won't buckle under US hegemony. So what's it to be?
Friday, June 24, 2016 (5 comments)

Russia and China aren't the threat; we are. The US since the end of WWII thru its actions in the world has become the most sinister entity in the world. It's not put that way by our politicos or the corp. MSM who have indoctrinated, propagandized & insulated the people from the horror the US state commits beyond our borders. So most support our wars, drone strikes & aren't affected by our killing innocents, collateral damage. Russia & China aren't the threat; we are.
Wednesday, June 15, 2016 (14 comments)

Trump vs Clinton, "Horror vs Horror" It's become obvious there's no need to wait for the Repubs & Dems convention extravaganza's this July. It's the "Donald" & the "Hillerator", Trump v/s Clinton, the two most hated candidates to lead their party's ever. Trump is despised by his own party & Clinton though supported by a majority of women is despised by many (most?) others in America. It's "Horror v/s Horror" this November.
Wednesday, June 8, 2016 (8 comments)

"Startling" US survey reveals public support for nuclear strikes A July 2015 survey -recently published by the WS Journal asked, " Would the US drop the bomb again?"-revealed US public support for nuclear strikes. The survey used a fictional scenario mirroring Pearl Harbor. If Iran attacked a US aircraft carrier in the Persian Gulf would the US public support a nuclear attack on an Iranian city killing 100,000 civilians. 59% backed using a nuclear bomb even w/ vast civilian casualties