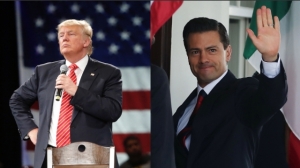 Donald Trump to Mexico's Enrique Pea Nieto: What Wall? - The ...
(
Image
by
thedailybeast.com
)
Details
DMCA
President Donald Trump juxtaposed to Mexican president Enrique Pena Nieto
Well here we go. A day after the "Donald", President Trump signed an executive order for construction of a wall with Mexico saying they would pay for it he's having trouble with them agreeing to it.
The president of Mexico, Enrique Pena Nieto was scheduled to meet with Trump in Washington next week, but decided early yesterday to cancel the meeting when Trump insisted Mexico pay for the wall.
Trump had said earlier it would be better if Nieto canceled the trip if he insisted Mexico wouldn't pay for it. So it goes.
When one thinks about the idea of Mexico having to pay for a wall built entirely on the US side of the border it's a bit of chutzpa to begin with-to say nothing of the merit of building the wall in the first place.
On a smaller scale in America when neighbors want to build a fence between them they usually agree where the property line is, build the fence there then split the costs. Not Mr. "art of the deal" himself though, it's we build it, you pay for it.
Aside from Mexico's objection there's the "Tohono O'odham Nation, a native American tribe whose reservation in Southern Arizona borders Mexico. Tribal leaders have said there won't be a wall built on their 75 mile border with Mexico where one leader put it rather succinctly, "Over my dead body will a wall be built". [1]
That's pretty definitive considering Native American lands have sovereign status in the US.
You have to love it when actual resistance to an unnecessary, bad project has legal standing on its side.
Sure many people in the US objected to Trump building the wall but their protests couldn't legally stop the "Donald", but the Tohono O'odham apparently can, at least the 75 mile stretch of their land where he won't be able to build his wall.
On a potentially more worrisome note, tucked in an executive order regarding refugees entering the US, Trump has ordered Defense Secretary James Mattis and Secretary of State designate Rex Tillerson to come up with a plan in 90 days for safe zones in Syria.
Such a plan would require control of the air space, something Gen. Joseph Dunford, Chairman of the Joint Chiefs of Staff told Congress in September, "Right now, for us to control the airspace in Syria, it would require us to go to war against Syria and Russia"...a pretty fundamental decision I'm not going to make".
I doubt Trump wants a war with Syria and Russia as it is they who control the airspace in Syria. However this is something to keep a watchful eye on.
What Trump needs to do is reach out to Russian President Vladimir Putin and arrange a face to face meeting whereby Trump can be apprised by the Russian leader of the reality in Syria. Russia isn't about to cede control of the airspace in Syria so any idea of an American sponsored safe zone is a nonstarter.
All a safe zone will do is provide a sanctuary for radical, Islamic Jihadists to regroup and initiate attacks on President Bashar Assad's Syrian Arab Army positions then retreat back into the safe zone after the attack.
(Note: You can view every article as one long page if you sign up as an Advocate Member, or higher).