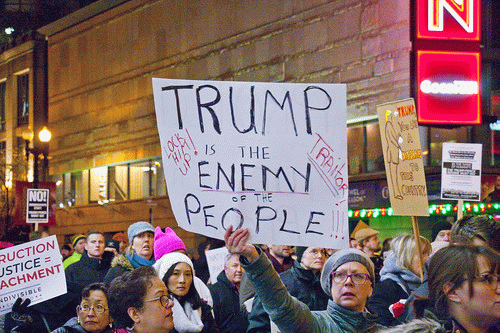 Protest Trump and Protect the Mueller Investigation Rally and March Downtown Chicago Illinois 11-8-18 5092
(
Image
by
cemillerphotography.com
)
Details
DMCA
It's becoming even more clear, since I wrote my article, Republicans Are Going to Remove Trump Soon, that Donald Trump will be out of the White House and off the 2020 ballot by the time the Iowa primary comes around. Just last night, Mitch McConnell distanced himself from Trump by writing an Op-Ed for the Washington Post, critical of Trump's withdrawal from Syria. And Ohio governor John Kasich has come out calling for impeachment. A crescendo is building. Trump will soon be a spittle-soaked footnote in history.
So, a lot of people and organizations need to start thinking about a number of things.
GOP Leadership
Trump could be gone by Thanksgiving, and will certainly be gone by February 3rd, the day of the Iowa caucuses-- and probably long before that, since the GOP will want to give candidates a chance. Be assured, the GOP leadership has already commissioned internal, non-public polls to assess the damage Trump is doing to the GOP brand and the future of Republicans at all levels of office. I am certain they will see that if Trump is on the ballot and still in the White House, the Republicans will be at risk of losing not only the White House, but also the Senate and more seats in the House, as well as governorships and state legislatures. The GOP leadership needs to give potential presidential candidates as much advance time as possible to start campaigning in the early primary and caucus states. In the 2016 primaries the GOP behaved far more democratically than the Democrats did. So expect a big field of candidates.
Democratic leadership
It seems to me that the Democratic leadership is so focused on beating Trump in the election that the reality that Trump will not be on the ballot has not dawned on them yet. How will the messaging change if they don't have a vile narcissistic psychopath to attack. Sure, Mike Pence, a certain primary candidate, is offensive for his values and policies, but he will not be as easy a target as Trump, when it comes to independents and Democrats who switched from Obama to Trump. My guess is that the candidates who have depended the most on targeting Trump will be hurt the most by this ballot sea change. Look out Joe Biden, your reason to run will soon be gone.
Pollsters
Pollsters should start doing matchups with between likely Democratic and Republican Candidates. How Will Biden, Sanders, and Warren, the leading Dems, perform against likely GOP candidates-- Mike Pence, Marco Rubio, Ted Cruz and Nikki Haley. We could see very different poll results. And that's important.
Mainstream Media
Not if, but when the mainstream media starts discussing Trump's imminent demise it will make it easier for the Republican leadership to do the necessary. It will make it seem that removing Trump is obvious and the only option. That process is in its early incipient stages but it could explosively emerge into a major phenomenon virtually overnight. I write, in my book, Bottom-up Revolution, about how systems and chaos theories describe a model of the world where emergence of new system properties and behaviors can happen very quickly, without the need for a 50% plus one majority. That' the way I see Trump's removal happening. Already, we've seen multiple FOX news talking heads challenge Trump's viability. Fox will not be immune from the avalanche of criticism and calls for impeachment. There will be a tipping point and it will be reached soon, because the MSM will be helping, eventually, even Fox News.
Democratic Candidates
Democratic Candidates can play a role in accelerating Trump's demise by talking about it as thought is already a fait accomplis. Once this becomes more and more obvious, candidates will begin to position themselves in the way the smart ones already have, by taking positions on issues that will help them win on November 3, 2020. Talking about Trump in the past tense will infuriate him and that will lead him to melt down ever faster, making more mistakes and outright admissions of guilt.
(Note: You can view every article as one long page if you sign up as an Advocate Member, or higher).