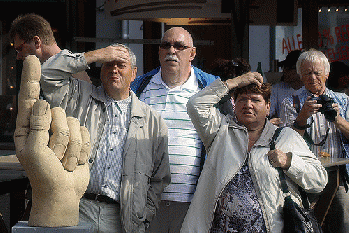 Oh no
(
Image
by
Mister-Mastro
)
Details
DMCA
What Did YOU Do On Inauguration Day? I watched the Inaugural Address of our newly-minted President on the evening of January 20, after taking care of all my more necessary business of the day, and I was flabbergasted.
Trump actually used a SIMILE. "Rusted-out factories scattered like tombstones," he said in the course of the address.
I wonder who advised him to use that? He is incapable of it himself, as a pathologically unreflective man with no cultural or historical education. He has specifically declared that he never reads books.
"We are looking only to the future," he said.

"A new vision-- America first! America first!" Oh, yeah, that's so new and great.

Susan Dunn is a professor of Humanities at Williams College and the author of 1940: FDR, Willkie, Lindbergh, Hitler -- The Election Amid the Storm , noted the origins of the "America First!" slogan from Trump's campaign, and from his inaugural address:
"My foreign policy will always put the interests of the American people, and American security, above all else. That will be the foundation of every decision that I will make. America First will be the major and overriding theme of my administration.
It is extremely unfortunate that in his speech Wednesday outlining his foreign policy goals,Donald Trump chose to brand his foreign policy with the noxious slogan 'America First,' the name of the isolationist, defeatist, anti-Semitic national organization that urged the United States to appease Adolf Hitler."
Vision? This is a man who lies about the heights of his buildings. As I shook my head at this speech, the following Shakespearean sonnet, which I wrote during the summer of last year's presidential campaign, came to mind:
He could not say, could not compose these words.
They would not sit beside each other so,
Like pickets in a fence, or like small birds
Upon a wire, in his small mind. Oh no,
(Note: You can view every article as one long page if you sign up as an Advocate Member, or higher).