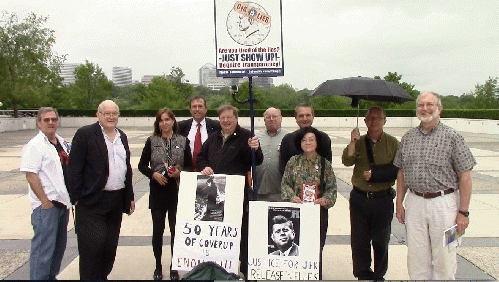 5/29/14 JFK Vigil at The Kennedy Center
(
Image
by
JFKvigil.com
)
Details
DMCA
Every November 22nd for over 50 years, Dealey Plaza, Dallas, Texas has been the primary, almost exclusive focal point for gathering to remember the tragedy of JFK's assassination - and to maintain awareness of errors and deception increasingly evident in the Warren Commission's official theory of events that day in 1963. As a touchstone, a place for reflecting on the nature and conduct of evil - the violence and lies which constitute, surround and protect it - nothing can substitute for standing once, twice, even a dozen or more times in that place.
Yet among important truths that have emerged from the intense, prolonged focus activists and researchers have brought upon what happened both to President Kennedy and the subsequent political direction of our country, is that all roads indeed lead back to Rome - or at least the New Rome, Washington, D.C. - the single place where political pressure can and must be brought to bear for real transparency to ever be achieved regarding not only JFK's murder, but to inform and guide the future of our nation.
Formally named "The John F. Kennedy Memorial Center for the Performing Arts" and located at 2700 F Street, NW, Washington, D.C. 20566, "The Kennedy Center" is self-described on its website, www.kennedy-center.org, as "America's living memorial to President Kennedy." The Kennedy Center thus exists to be more than just a place for experiencing and celebrating among the finest artists and productions of entertainment mankind has ever known.
Since November 22, 2013, a precedent has been established - and even well received by The Kennedy Center's staff and local media - that the public terraces of this building are a most appropriate place for gathering in memory of John F. Kennedy every November 22nd (and May 29th, JFK's birthday), peaceably assembling and petitioning merely by one's presence for: 1) Immediate, un-redacted release of all still withheld assassination-related records; 2) Reining in the CIA to its original, intelligence-only mandate; 3) Ending the intimidation of official secrecy and the violence it perpetuates, necessary to achieve real transparency in governments worldwide.
Upon conclusion of the "JFK Vigil" on May 29, 2014, a member of The Kennedy Center's security staff helped capture the moment with the author's videocamera:
This November 22nd at 12 noon, whether a few or many assemble, John F. Kennedy will be remembered on the public terraces of The Kennedy Center. The author intends to provide a simple, wooden "soapbox" upon which any in attendance may stand and briefly speak, honoring JFK's legacy in thoughtful reflection and with hope for the future. And whether on this or some November 22nd (or May 29th) yet to come, those gathered may then elect to disperse and elsewhere reassemble, in the most Constitutional of manners, furthering their petition for redress of cited grievances - perhaps at the White House, the Capitol - or even C.I.A. Headquarters, just off the George Washington Memorial Parkway.
JFK said, "A man may die, nations may rise and fall, but an idea lives on." And yet, "One person can make a difference, and everyone should try." This November 22nd, is your destination Dallas? - or Washington, D.C.?! If you join increasing numbers assembling at The Kennedy Center, the positive impact for real transparency could be overwhelming!
Please consider this 22:50 minute video, released before the JFK Vigil of May 29, 2014. You'll see favorable coverage by Washington, D.C.'s NBC-WRC-TV(4) affiliate of the inaugural, "one-man vigil" on the 50th anniversary of JFK's assassination. Also, excitement and controversy surrounding efforts to simply hold a sign - and thus maintain a visible presence on the JFK assassination records issue - at The Kennedy Center's front door the evening of December 8, 2013, during filming of the 2013 "Kennedy Center Honors." Influential corporate and political leaders - even President Barack Obama - were present that evening, yet sheltered by police and security personnel from seeing the sign - from being made aware or reminded of this important issue. The "JFK Vigil" concept of employing "Civil Obedience" - peaceably assembling, in petition for redress of grievances, as provided by the U.S. Constitution - is examined in the context of evidence easily and understandably refuting the Warren Commission's official theory of non-conspiracy, demonstrating that real transparency has not yet - but must be - achieved regarding JFK's murder.

www.JFKvigil.com is being established as a website dedicated to Constitutional Assembly on public terraces of The Kennedy Center, in furtherance of stated objectives, every 11/22 and 5/29 for the foreseeable future. Other domains previously or currently forwarded to related information and social networking sites include: www.JFKvigil.info, www.JFKvigil.net, www.HonorJFK.com, www.OperationNutcracker.com, www.CrackTheNut.com and www.MadAsHell.net. Also under development by the author is www.KarlGolovin.com.
(Article changed on October 25, 2014 at 13:20)