From Media Matters
Hint: His Presidency Is A Mess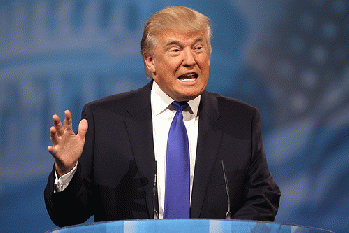 Donald Trump
(
Image
by
Gage Skidmore
)
Details
DMCA
Recent media analyses have argued that President Donald Trump has received lots of negative news coverage since being sworn into office. But before his supporters inevitably seize on the findings to bash journalists as biased and unfair, there's important context to keep mind: Based on the fawning over Trump's address to Congress last week, the press is desperate to tell positive Trump stories -- but the administration's first weeks have created nonstop tumult.
Media coverage of Trump since the election has been flawed in several important ways, but journalists shouldn't be blamed for reporting on all the self-inflicted wounds Trump and his White House team have caused, because news coverage doesn't exist in a vacuum. News coverage revolves around ... news.
So in that sense, the heavy dose of negative coverage is deserved. And I don't mean that in a partisan sense (i.e., I disagree with Trump so the press should treat him poorly). I mean that in a journalistic sense: Trump's presidency is, without qualification, a chaotic mess, so his press coverage ought to reflect that. In this case, "negative" coverage could just be journalists chronicling the confusion Trump has initiated in recent weeks. (Historians and veteran Washington correspondents recently confirmed to Media Matters that Trump's first month was more "chaotic" than other presidential first months in history.)
And here's what completely punctures the right-wing claim that the Beltway press is somehow out to get Trump: Last week, when the president gave a supposedly "normal" speech to Congress and embraced a more "presidential" tone, the pundit class instantly draped him in praise.
Rushing past the substance of the speech, which was built on a foundation of exaggerations and obvious falsehoods, the chattering class went ga-ga over Trump. The swooning fawn-fest for the deeply unpopular president was telling because it signaled the pundit class's eagerness to boost and praise Trump -- if only he would give them more chances.