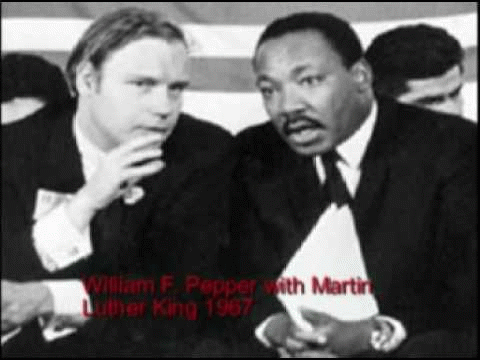 Dr. Martin Luther King Jr., right, with Dr. William F. Pepper
(
Image
by
Ben Fernandez via 'Orders To Kill'
)
Details
DMCA
Dr. William F. Pepper is shown above with Dr. Martin Luther King in a 1967 photo by Ben Fernandez on the platform of the National Conference for New Politics, which helped launch in Chicago what they and others intended as a new political movement. As Pepper, the planned executive director, recounts in his books, including "Orders To Kill" and "The Plot to Kill King," provocateurs disrupted the movement before it could reach its goals of a mass movement, including a 1968 Third Party presidential ticket that could have been led by King and the famed author / peace activist Dr. Benjamin Spock.
By Dr. William F. Pepper and Andrew Kreig
For the fiftieth anniversary of Martin Luther King Jr.'s murder, the Washington Post last week overcame its tainted history of softball coverage and published a hard-hitting account quoting the King family's disbelief in the guilt of convicted killer James Earl Ray.
The bold, top-of-the-front-page treatment on April 2 of reporter Tom Jackman's in-depth piece --The Past Rediscovered: Who killed Martin Luther King Jr.? -- represents a major turning point in the treatment of the case for the past five decades by mainstream media. Print, broadcast and all too many film makers and academics have consistently soft-pedalled the ballistic, eye-witness and other evidence that undermines the official story of King's death.
This time, the Post and Jackman, an experienced reporter, undertook bold but long overdue initiative. One can only hope that it leads to similar coverage -- rigorous and fair -- for other history-changing events, including current ones that are inherently secret.
The Post's MLK Success Formula
Jackman's method was relatively simple. Reporters use it routinely on other stories that are not so political sensitive as King's death. In this instance, the reporter quoted family members and other experts and provided balance with other perspectives.
Next Page 1 | 2 | 3 | 4 | 5 | 6 | 7
(Note: You can view every article as one long page if you sign up as an Advocate Member, or higher).