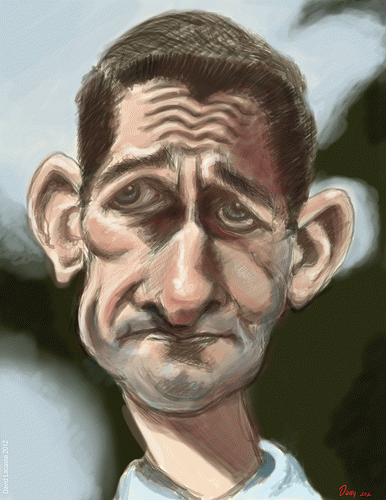 Paul Ryan - Digital Painting Caricature
(
Image
by
David Lacasse
)
Details
DMCA
Reprinted from www.dailykos.com by Mark Sumner
Donald Trump may feel that his legislation-free first 100 days were beautiful, wonderful, and the best ever, but he's the only one. What the rest of the Republican Party is seeing is falling support, ineffective leadership, and internal strife.
Some Capitol Hill Republicans have envisioned the nightmare scenario for 2017, and it goes like this: No ObamaCare repeal. No tax reform. No trillion-dollar infrastructure package. No border wall.
As it turns out, Republicans have their obstructionism refined to razor sharpness, but the time they dedicated to actually thinking through workable alternatives to existing laws is restricted to the length of time it takes to say "It'll be easy."
While many Republicans hold out hope the ObamaCare repeal bill will be revived, skeptics say the GOP infighting during last month's healthcare collapse may have poisoned the well for future big-ticket legislative deals.
It's not just drafting laws that Republicans have failed at-- it's drafting passable laws. Right now there are Republican factions who believe that health care should be abandoned so they can score a win on tax reform, and factions that believe tax reform isn't possible without first dealing with the Affordable Care Act. There's also an increasing recognition that they can't get everything they want pushed through without seeking some Democratic support in the Senate, a factor that makes it even more likely that they will shed Freedom Caucus votes in the House. Because Republicans have spent decades declaring that anything which can garner a Democratic vote is intrinsically evil.
And the recriminations among Republicans only seem to be getting nastier.

Rep. Mark Meadows (R-N.C.), the head of the conservative House Freedom Caucus, "is a pathological liar who isn't interested in getting to yes," one House GOP colleague of Meadows told The Hill in a fit of frustration over the stalled health negotiations.
For Democrats the result of this Republican civil war is the best possible outcome, considering the current make up of Congress and the occupant of the White House: Nothing.
Or nearly nothing. Republicans continue to erode regulations using the Congressional Review Act, and Trump's agencies continue to weaken enforcement. But at least on the major legislative front, Republicans are locked down by their own unwillingness to compromise, even with each other.
At a town hall in Cedar Springs, Mich., GOP Rep. Justin Amash, another Meadows ally, hurled blame at the feet of Ryan: Republicans need "either a change in direction from this Speaker, or we need a new Speaker."
(Note: You can view every article as one long page if you sign up as an Advocate Member, or higher).