Rand "Neo" Paul US Senator disagrees with John McCain, US Senator and prisoner of war, that allowing Montenegro into Nato is in the US' national interest

This is so dense that I can not do it justice by commenting on it. This is an abbreviated version. You are going to want to download and read the document for yourself.

From the Congressional Record Online through the Government Publishing Office [www.gpo.gov]

MONTENEGRO'S ACCESSION INTO NATO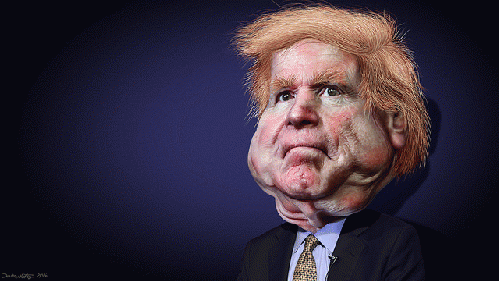 John McTrump
(
Image
by
DonkeyHotey
)
Details
DMCA
Mr. McCAIN. Mr. President, I am pleased to be in the company of the distinguished Senator from Maryland, Mr. Cardin, the ranking member on the Foreign Relations Committee and one who is most knowledgeable on issues of national security and foreign policy. I believe that Senator Shaheen from New Hampshire will be joining us.
This is an issue that I am sorry has to be brought up in this fashion. It concerns a little country that wants to be a part of the European Union, that wants to be a part of the values, customs, and ideals of the West and has been under significant pressure and even assault from Russia.
Its membership in NATO would improve the stability in the region, where, I know my colleagues would agree, there is great instability.
The United States has benefited tremendously from peace and stability in Europe, and the foundation of that peace and stability is NATO. That is why we should stand with Montenegro or risk undermining our vision of a Europe that is whole, free, and at peace.
First, I would like to yield to my colleague from Maryland, Senator Cardin.
The PRESIDING OFFICER. The Senator from Maryland.
Next Page 1 | 2 | 3 | 4 | 5 | 6
(Note: You can view every article as one long page if you sign up as an Advocate Member, or higher).