(

Image

by

CC via wiki

)

Details DMCA

The inner angle in a regular pentagon is 108 degrees. Home plate is, of course, a pentagon, although not a regular one.

108 is a Harshad number, which is an integer divisible by the sum of its digits. Harshad is from Sanskrit, and means "great joy," which certainly pervaded Wrigley Field on the night of the Cub's historic win.
108 is a sacred number in the Hindu, Sikh and Buddhist spiritual traditions, and the land that Wrigley Field stands on used to be the site of a church and a seminary.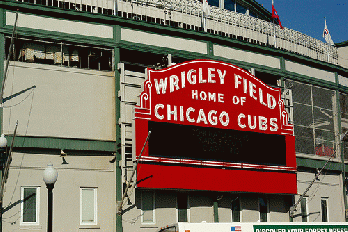 (
Image
by
aaronHwarren
)
Details
DMCA
So maybe it really is all about the Church of Baseball, as Susan Sarandon's character notes in Bull Durham.
On Sept. 22, 2016, Michael Sneed wrote in the Chicago News, "108 could be the Cubs' magic number this year," noting that the baseball was "designed by the Cubs first manager and ace pitcher A.G. Spalding, whose Chicago office was originally located at 108 W. Madison Street" and continues:
* The left and right field corners at Wrigley Field -- are 108 meters from home plate.

- Advertisement -

* The Ricketts family, which owns the Cubs, has located their main business -- TD Ameritrade -- on 108th street in Omaha, Nebraska.

* The number 108 is a sacred number in yoga. and Cubs pitcher Jake Arrieta does yoga 6 days a week.

* Cubs win the World Series in the 1990 J.J. Abrams film "Taking Care of Business," which is 108 minutes long.

* Cubs win the World Series in the 1989 film "Back To The Future Part II," which is 108 minutes long.
The Cubs won the World Series on Nov. 2, All Soul's Day. From November 2 to Christmas (December 25) "there are 54 days and 54 nights, that is to say 54 positive units and 54 negative units: 54 + 54 = 108," symbolically depicting "the progress of darkness to the light."