Summer Solstice 2017
(
Image
by
Cathy Pagano
)
Details
DMCA
Summer Solstice on Narragansett Beach RI
The Sun goes into the sign of Cancer at the Summer Solstice, the longest day of the year, on the night of June 20th--June 21st. And this year, the Cancer New Moon occurs on the third day when the 'Sun stands still' at the Solstice before it turns back South. So this Cancer New Moon is supercharged with the blessings of the Summer Solstice, the Marriage of Heaven and Earth.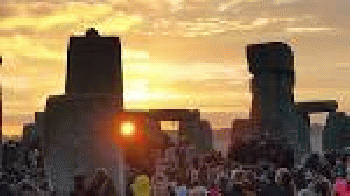 From flickr.com: Stonehenge Summer Solstice Sunrise 2016 | Thousands of peopl | Flickr1024 Ã-- 576 - 84k -
(
Image
by
flickr.com
)
Details
DMCA
Summer Solstice, when life is abundant with heaven's blessings, is also a time to come home to yourself so that Sacred Marriage can happen within you as well as out in the world. This is the season to find your inner Beloved and marry that energy to your consciousness. You will birth something awesome this next year if you do.
This year's Solstice chart has the Sun in Cancer and it's ruler, the Moon, in Taurus, the sign of its exaltation. That means the Moon is very happy in Taurus where it can ground in its nurturing power to make things grow. The Moon is conjunct Taurus' ruler, Venus, and receives a power boost from Pluto in Capricorn as well as a little magic from Neptune in Pisces. I would say this Solstice chart invites us to manifest our deepest dreams with love, intelligence and grace, both for yourself and for the world. We have to birth a new society that will bring our deepest ideals into reality. We do that by living those ideals. The American Revolution is in its second phase: the future is calling our names.
Summer Solstice has always been a time of joyous celebrations, for the Light is bright, the Earth is fruitful and life's pleasures are appreciated, because we know that soon the Dark will Rise, for the Dark is as important to life as Light. Unfortunately our society no longer honors the Dark for its true gifts of inner vision, possibilities and silence; rather we misunderstand it and twist it into our cruelty to life, our fear of death and our unconsciousness. So at this great festival of Light -- embrace the kernal of darkness within you, the seed of future possibilities, without fear. Change is the only constant.
We honor the Great Mother of Life as the Sun rises high in the North, just as we honor Grandfather Spirit when the Sun travels to the deepest South. (Happy Winter Solstice to everyone down there!) Cancer the Mother symbolizes the primordial waters/womb that give birth to all life. As Above, So Below. Cancer also symbolizes our emotional bodies, just as our particular Moon (ruler of Cancer) shapes our unique emotional body. The emotional body processes the emotional energies that activate and carry us through life, reflecting how we experience life. Do we embrace life to the fullest, or try to hold back and control it? Do we meet life as an adventure or as a responsibility? Do we love to sink into a depression and stay there or do we let the river of our emotions flow unimpeded so when we get pulled under by depression, we pop right back up and take a breath and see what else life has to offer? An Aries Moon will process her emotional life differently than a Cancer or Virgo Moon. Their emotional wounds will be different.
This month as the Sun travels through Cancer, most of us will turn our attention to home, family, nurturing, beach, relaxation -- whatever says mother love and nurturing to you. It's a season of self-care and abundance, so don't miss this opportunity to pamper yourself in all the right ways. Excess is sloppy and not really nurturing. Unwind and get centered.
A few hours after the Sun enters Cancer, Mercury, who just raced through Gemini after trudging through Taurus, leaps into the arms of Mother Cancer and then dances with the Sun in the early morning. When I was a kid, early summer mornings were the best -- soft breezes blowing through open windows, bright light filling the room and best of all, no school! In that relaxed, happy moment, I was totally at one with the world. That's what Mercury in Cancer's mission is. A dive into the watery depths of life to bring back the heart's messages on how to recapture that peace, pleasure and at-one-ment. The emotional security of home.
Cancer New Moon
This year's Cancer New Moon slips home on June 23rd during the window of the Summer Solstice. All New Moons are energetic births and beginnings, but the Cancer New Moon stands out because Cancer is the Moon's domain. The Cancer New Moon re-births our emotional body, asking us to dig ever deeper to find our true home. To feel most ourselves.
The Great Mother ocean, symbolized by the sign of Cancer, gave birth to life on this planet and continues to give birth to each of us on Cancer's New Moon.
(Note: You can view every article as one long page if you sign up as an Advocate Member, or higher).