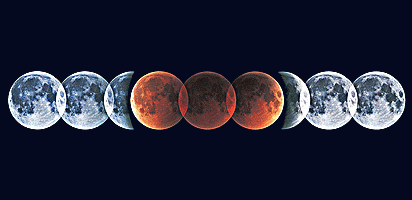 Lunar Eclipse
(
Image
by
Fujii Eclipse
)
Details
DMCA
There is another special celestial event happening during this very important week of the Cardinal Grand Cross --we're going to see a total lunar eclipse. This year, we have one of the latest possible dates for Passover and Easter and they coincide with the week of the Cosmic Cross, April 14th--23rd. The Cosmos seems to be making a statement, especially with Earth Day capping off the week's festivities. It's time for a new story!
The Libra total lunar eclipse on April 14-15 is the first of four occurring in the next two years. The other three eclipses in the unusual "tetrad" of full Moons will be in October 2014, April 2015 and September 2015. This month's Lunar Eclipse will begin to show a shadow at 5:52am GMT / 1:52 am EDT on April 15th / 10:52pm PDT on April 14th . It will be full at 7:45am GMT / 3:42am EDT / 12:42 am PDT. The eclipse will last about 4 hours, so make an eclipse party of it and share the beauty and mystery of our night sky with your friends. The eclipse will be visible in the Western Hemisphere--from the extreme western edge of Europe through the Americas and over the Pacific.
A lunar eclipse occurs when the Sun, Earth and Moon align, causing the Earth's shadow to fall on the Moon, darkening it. This lunar eclipse is called the Blood Moon, because the crimson color of the Moon during an eclipse is caused by the refraction of sunlight through the Earth's atmosphere. We have folklore which speaks to the dangers of a lunar eclipse, but they are old stories, told by a patriarchal consciousness that feared the unknown. These celestial events give rise to stories, because they are so mysterious and are writ large across the heavens. What story will you hear as you watch the Moon turn red?
I'm a storyteller, and I look for the mystical in the everyday, or not so everyday. And when I think of the red Moon eclipse, I am reminded of a story of the end of an age, when great evil comes back into the land and its presence demands that everyone stand together against it. Guy Gavriel Kay's soulful and exciting story is told in The Fionavar Tapestry . A red Moon rises in the first of all worlds where gods and goddesses still walk the land and there is magic stirring all around. It's a world where you have to live a full life, a meaningful life. Ancient Evil is awakening and all the lands are suffering from a great draught (climate change?). When one young man offers his life to bring back the rains for the parched land, a red Full Moon rises on a New Moon night. The Moon Goddess chooses to help defeat Evil. (The Goddess is returning to help us here too.) She gives three gifts to the world, since the Goddess always works in 3s. The first gift is healing, when she gives the sacrifice back his life just at the moment of his death. His sacrifice and rebirth make him the Twice-Born--emissary of a god. Not an easy path, but he now has the power of the god to use if he can (hint: it's not a superpower.). And there will be others who sacrifice and take on power because of her gift of healing. The second gift is the rain--breaking the hold of the powers of death over the land. The third gift is a mystery, a magical creature created for glory and death and love. It is a story worthy of the most famous Bards--Tolkien included.
These four red Moon eclipses, as well as the four planetary powers of the Cardinal Grand Cross, might bestow gifts as well as demands on us as well--four being the energy of manifestation. A good story that speaks to your heart can help you shape the energies to give you purpose, passion and power. A good story gives meaning to your life. A good archetypal story impresses its energies on your soul. It's a good time to feed our souls.
So as you're sitting under the Red Moon, don't forget to tell yourself a good story.
Libra Full Moon Eclipse 2014

This Libra/Aries full Moon eclipse had an interesting beginning on August 14, 1022. (There are series of eclipses--this one belongs to Saros Series 122.) With a Leo Sun and Aquarius Moon, this first eclipse spoke of the need to express our creative gifts (Leo Sun) so we can share them with the world (Aquarius Moon). With Pluto on the galactic center in flowing angles to the eclipse, some form of transformation wanted to emerge around this issue of bringing our unique talents to the collective table. But it was only a beginning. Now almost one thousand years later, we are being posed a similar question. What else are we supposed to do but bring our talents and gifts into the collective now?
A Libra Full Moon is opposite the Aries Sun. Our sense of self-identity (Aries) can only be fully known when we relate to someone else (Libra). With the Moon in Libra, we need to remember to have our own Aries standpoint when we relate to others. We've been trained, especially women, to bend over backwards for others. But that's not how to create harmony and balance (Libra). True balance comes when each person stands on their own side of the scale. Our Libra sensibility is how we create good relationships. Both partners' needs can be met if we learn how to compromise. And compromise means knowing where you stand.
That's the awareness we can get from this eclipsed Full Moon. Lunar eclipses give us the awareness to bring a situation to an end. While the Sun's light is blocked by the Earth's shadow, our unconscious motivations and desires are more easily felt. Without the constraints of our 'shoulds and oughts', perhaps we can find clarity and healing of our relationship wounds now. (We've been dealing with the emotional aspects of those wounds with Saturn in Scorpio.) We need to work together, and we need men and women to act together if we want to create real change.
Some of the asteroids come into play during this eclipse. Juno, the great Queen, is conjunct the Sun, focusing us on the issue of equality between the sexes. Ceres, the Grain Mother and Vesta, the sacred fires of life, are conjunct the Moon, opening us to our real needs as well as our caring nature. It's time we started to care about each other and bring that caring into our society.
I'm especially happy to see these Sabian symbols for the Sun and Moon, since they are the symbols for my Nodes. This total lunar eclipse is just a few degrees from our present Nodes: the North Node is in Libra and the South Node is in Aries. The spiritual directive is to leave behind self-interest and direct our energies toward the common good. With the Moon conjunct the Libra North Node, we have to begin to trust our emotional intelligence. It is the heart that knows truth and wisdom. And there's so little heart in our corporate society.
The Sabian symbol (from Steve Eardley) for the Sun at 26* Aries is: Standing in the center of the fiery fountain of life, a man is overwhelmed by hundreds of new inspirations. This symbol is so joyous--to stand in the fiery fountain of life is to be filled with a passion that wells up from the heart, to be intoxicated with potential and to engage with the Creative Imagination. We have to jump into that fountain with both feet and yet not get stuck in our own heads. We are called to the North Node in Libra--to partnership.
The Sabian symbol (from Dane Rudhyar) for the Moon at 26* Libra is: An eagle and a white dove change swiftly into each other. This symbolizes the ability to process life with both our Spiritual Will and our soulful Love. It is so important for us to unite our head and heart, our soul and spirit if we're going to make the very real changes our society needs. It won't happen overnight, but it will happen person by person as we stand up for our values and our beliefs. The Eagle of Spirit and the Dove of Aphrodite are really two sides of the same coin--spiritual self-awareness (Christ consciousness) united with Wisdom.
(Note: You can view every article as one long page if you sign up as an Advocate Member, or higher).