The Cosmic Story: Scorpio Full Moon 2016
Earth Day
If You Build It, They Will Come
Earth
(
Image
by
Kevin M. Gill
)
Details
DMCA
At this Taurus/Scorpio Full Moon we stand at the threshold of the full blossoming of Spring, which we celebrate on Beltane (May 1-6). What began at the Aries New Moon (conjunct wild and unpredictable Uranus) as an impulse, an energy jolt, an awakening--like those surprising first crocuses and daffodils lining the roads--is ready to stretch and move forward.
Even as our Mars desires turn within to grapple with what we really want since Mars turned retrograde on April 17 th . The age-old question: What do women desire most? can be applied to both women and men if we change the focus: What does our Soul desire most? Like the hero in our Aries' story of The Hymn of the Pearl/Hymn of the Robe of Glory , the time is ripe to awaken and search for our own pearl of great price.
The pearl is our Higher Self, whose enlightenment and wisdom we access through our awakened soul or psyche. This pearl is the manifestation of our true Self, our destiny and our unique gifts . Like the Buddha who once sat under this Full Moon and received enlightenment, we are invited to face our demons and desires and allow our immortal Self to arise from the ashes of these old personal and cultural stories to fertilize completely new stories.
Happy Earth Day
Taurus is the most earthy of Earth signs, the very Nature of our planet. Ancient societies lived close to Nature, grateful that it sheltered and nurtured them. But more important, they learned to understand and live with Nature's laws, knowing they too were part of Nature. They understood that life and death are connected, just as the signs of life (Taurus) and death (Scorpio) are connected. They only had to look to Nature to see this truth.
During the last 800 years or so of patriarchy, we have gradually lost touch with our relationship to the Earth, until the scientific/capitalist story about the world insisted that Earth was dead matter which we could manipulate and use as we desired. Westerners thought we could own the Earth and so we lost respect for Her. And we believed we were cut off from Nature and our divine Mother. We've seen the deadly results of that belief. An Earth teetering on the brink of global disaster. Death everywhere.
That's why as we celebrate Earth Day this year, let's remember that Nature is not only something outside of us but is intrinsically a part of us. It's time to listen to our human nature as well as our spiritual nature. Mother Nature is trying to help us set things right. We're the ones who keep messing up because we refuse to listen. So this Earth Day, begin to respect the Nature within you so you can listen to and understand what Mother Nature needs from you as a vibrant and vital part of her ecosystem. The Earth and all of Nature is standing by to help. We just have to ask for it.
Sun in Taurus/Moon in Scorpio
We begin to take on form while the Sun is in Taurus just as we release form when the Sun is in Scorpio. At a Full Moon, we combine the energies of our two heavenly lights and find a balance that comes through new awareness. At this Scorpio Full Moon facing the Taurus Sun, we need to release dead forms so we have renewed energy for our new life. The remains of last year's harvest make a rich compost for this year's new life. Mother Earth tells us out of death comes new life. The new flowers blooming now come to us because they died and decomposed last year. When we really 'get' that notion, we begin to live in Earth's cycles and appreciate the beauty of the moment.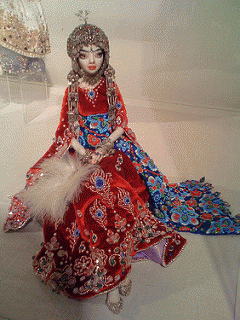 Scheherazade
(
Image
by
jennaddenda
)
Details
DMCA
As for me, my storyteller Bard wants to take on more form and so I am going to let go of old forms and follow the lead of my favorite bardic teacher, Scheherazade, and tell you the Cosmic Story through myths, dreams and fairy tales as well as astrological news (with short videos as well for those of you who don't want to read all this).
For those of you who aren't familiar with Scheherazade, she is the heroine of the 1001 Arabian Nights , a collection of stories from the Middle East. So let me introduce her to you, because she saves her world! She is a shining example of how a conscious woman can change the world. Scheherazade does it through storytelling. How marvelous is that! She doesn't fight or kill anyone. Instead, she uses the power of the word, of story, metaphor and symbol to change the world, by speaking to the heart and the imagination of the oppressor. This word-gift has always been my path of devotion.
(Note: You can view every article as one long page if you sign up as an Advocate Member, or higher).