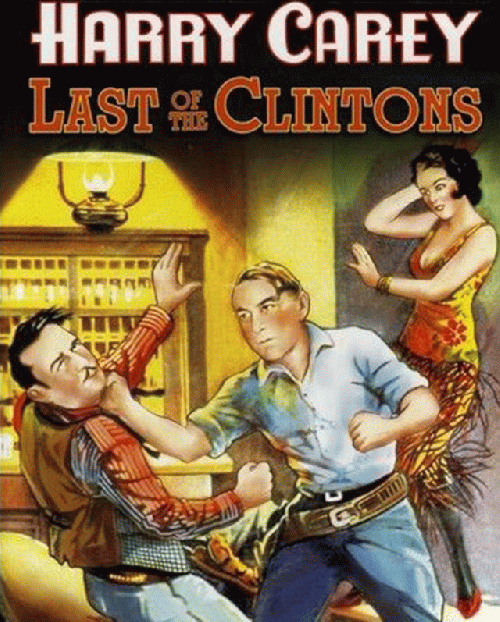 Last of the Clintons (1935)
(
Image
by
Public Domain
)
Details
DMCA
Neocon-Neoliberal establishment wanted Tulsi out of politics because she is critical of their regime-change doctrine and didn't blindly kowtow to the Democrat party leaders...After Tulsi's visit to see firsthand the truth of the Syrian people, the establishment's professional political propagandists saw a chance to discredit Tulsi whom they now hated for helping the world see the truth of the Syrian war...
Contrary to popular belief the American government doesn't always allow free speech. For example in the past the government has prosecuted people for speech they didn't want the public to be influenced by due to special circumstances, like wartime. But that was in the past and nowadays people associated with government will turn to propaganda in order to punish the speakers they would like to silence. Hillary Clinton recently said that Republicans are working with the Russians "who play a big role" in their election manipulation schemes to lie about Democrat candidates by using "the dark web" to "convince blacks not to vote." She also said they are "grooming" Tulsi who is a "Russian asset" to run as a 3rd party candidate in order to split the vote to help Trump's re-election.
The swift backlash against Hillary must have left her and the Neocon-Neoliberal establishment in the Clinton camp feeling shocked. Many in the media were acting surprised that Hillary would commit political hara-kiri like that, even though they were promoting the same smears right up to that day.
That reaction wasn't what Hillary expected. That wasn't what anyone expected, was it? Wasn't it just a few days earlier when it was perfectly acceptable for media personalities and politicians to try to discredit Tulsi as a "Putin Pawn" or some type of phony progressive? Articles, news segments, talk shows, blogs, vlogs, and everything in-between was piling on Tulsi for being a pawn of Russia, or a phony progressive, or an extremist of one sort or another. That message which was being shouted for months on end off the rooftops all over the Neocon-Neoliberal media landscape and by their aspiring wannabes in alt-media, must have made Hillary feel confident and untouchable if she said the same things about Tulsi. After all, all she did was pile on the ever growing chorus of establishment sycophants in their spreading of propaganda about a collectively disliked political opponent.
What changed to cause such a massive backlash to Hillary saying the same? It was so massive that the very news sources that had been pushing the same propaganda against Tulsi were now going on air and distancing themselves from Hillary! What was going on? What happened?
Ever since 2016 when Tulsi Gabbard criticized the DNC leadership over their handling of the primary debates and stepped down from her position in the DNC leadership to champion Bernie Sanders, the Neocon/Neoliberal establishment which controls the DNC had been looking for ways to discredit her best case scenario they could smear her into being removed from politics altogether. So when Tulsi went to Syria in Jan 2017 to investigate the war and attitudes of the people to American intervention, whom the American media and politicians had assured us were all angry and hateful of Syrian leader Bashar al-Assad they saw their chance.
In the video interviews she brought back we saw Syrians from their various religious communities begging America not to support the jihadist terrorist organizations whom the US was supplying with weapons and training to overthrow their secular society and install a theocratic totalitarian caliphate.
The foreign policy establishment under Obama hated that she had shown the world the truth of Syria. America wasn't fighting the bad guy. America was the bad guy. America was helping the Saudis overthrow the secular Syrian government to install Wahhabist religious ideologues so they could prevent Iran from having an ally in such a strategic place in the Middle East. Also taking over their oil and gas fields was another reason which inspired many to come on board the regime chance express in aiding the American and Saudi operation Turkey, France, UK, Germany, and Qatar to name a few. Wikileaks and Edward Snowden had revealed that Saudi princes had been leading the "civil war" with weapons, planning, and fighters from the start, for oil and gas. In 2003 a gas exploration team from Norway had determined that off the coast of Syria there are undiscovered gas fields, believed to be the largest in the world. That had been kept secret till 2013. Since 2012 a coalition of countries had been working on ways to divide the spoils of the gas. They would become leading sponsors of overthrowing Assad.
After Tulsi's visit to see firsthand the truth of the Syrian people, the establishment's professional political propagandists saw a chance to discredit Tulsi whom they now hated for helping the world see the truth of the Syrian war. ISIS had a history of over 50 poison gas attacks, so it was easy to simply blame a few of those on the Syrian government or even make them up. It made no logical sense for the Syrian government to use chemical warfare since they knew it would invite reprisals from the US which they certainly did not need. But now Tulsi could be blamed for "meeting a monster who gassed his own people."
Members of ISIS at first were mostly ex-members of the Sunni Iraqi military under Saddam Hussein who were hated by the new Iraqi Shia government. They along with the Syrian Muslim Brotherhood with tens of thousands of foreign fighters who had streamed into Iraq and Syria to help create a caliphate, were the members of the Syrian opposition. They were being funded and directed by the Saudis, Turkey, Qatar, the EU and America. All those Jihadist groups fighting to overthrow Syria along with ISIS and Al Qaeda were labeled as "Assad's own people whom Assad was gassing." Whom Tulsi met, and therefore "legitimized," simply because Tulsi wanted to find out the truth of the situation first hand, instead of relying on the government who had recently lied the US into the Iraq and Libya wars.
They had already tried to smear Tulsi earlier when Tulsi didn't go along with President Obama's claim about ISIS being a strictly criminal organization whose ability to recruit so many was based on a lack of jobs and money. Obama made ISIS out to look like a street gang intent on plunder. He promoted the idea that the US needed to provide a better life for Iraqis so they wouldn't turn to terror. Tulsi disagreed and said it was a religious based movement, that in order to combat ISIS and groups like them that their ideology needs to be confronted to show that Islam doesn't promote what they promote. Tens of thousands of foreign fighters were streaming into Iraq and Syria to join ISIS, mostly they were not motivated by plunder according to studies. It was shown most were middle to upper class with religious motivations. Just like the 911 hijackers also came from well off Saudi families. They all had in common a desire to take part in the creation of a Caliphate, a religious empire, a successor to the previous Caliphate.
Tulsi's words didn't sit well with Democrat leadership who wanted all Democrats to fall in line and not be critical of anything Obama said or did. Especially in that circumstance. The religious ideology of ISIS was being called into disrepute by Tulsi when ISIS promotes the same religious teachers as the Saudis. Obama didn't want to bring that into the conversation, so the result was that Tulsi's truthful view was misstated by Obama and the compliant media who smeared Tulsi as Islamophobic, pretending that Tulsi was "blaming Islam" when she literally did the opposite.
So when Tulsi went to Syria in January 2017, the professional propagandists working for the Neocon-Neoliberal establishment saw another chance to smear Tulsi to force her out of politics. She had become a bigger and bigger problem for them over the years with her unceasing criticism of regime-change wars. So they decided to invent a new criteria for politicians meeting with foreign leaders. Previously numerous politicians had met with Assad and with many other disreputable or unpopular leaders around the world, due to the accepted ideology that it was a necessary function of American diplomacy. Now all of a sudden it was a great sin! Tulsi had done something evil! Their job was to try and convince everyone that Tulsi did something unique and even illegal to "meet a dictator."
And especially they claimed it "legitimized Assad" who was now "our" enemy because Iran and Russia were on Syria's side. In politics rational self-interest was no longer to determine state diplomatic policy, now it was all about team sports. Russia and Iran are official enemies for some reason or other of the US government and therefore any nation on friendly terms with Russia or Iran can be treated as an enemy of the US government if they want to control that nation for some reason. For example sanctions are being levied on EU nations who are involved with the Nordstream gas pipeline from Russia to the EU and with Iranian oil. The US is openly telling them to purchase American oil and gas because they will sanction any person or business who is involved with Russian or Iranian oil and gas. And if any Americans resist the decree of the government on who is or is not an official enemy, then they can become their stated enemy as well even if not directly, they can enforce that propaganda objective through their compliant media and politicians. Which they do to Tulsi. American politics has become hijacked by mean girls.
(Note: You can view every article as one long page if you sign up as an Advocate Member, or higher).