Reprinted from Truthdig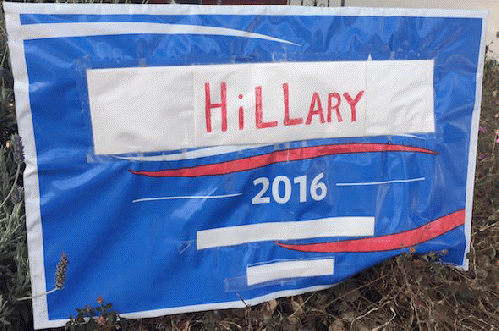 It's official: Hillary Clinton is the Democratic Party's nominee for president.
(
Image
by
(schroepfer / Flickr)
)
Details
DMCA
PHILADELPHIA -- The parade of useful idiots, the bankrupt liberal class that long ago sold its soul to corporate power, is now led by Sen. Bernie Sanders. His final capitulation, symbolized by his pathetic motion to suspend the roll call, giving Hillary Clinton the Democratic nomination by acclamation, is an abject betrayal of millions of his supporters and his call for a political revolution.
No doubt the Democrats will continue to let Sanders be a member of the Democratic Caucus. No doubt the Democrats will continue to agree not to run a serious candidate against him in Vermont. No doubt Sanders will be given an ample platform and media opportunities to shill for Clinton and the corporate machine. No doubt he will remain a member of the political establishment.
Sanders squandered his most important historical moment. He had a chance, one chance, to take the energy, anger and momentum, walk out the doors of the Wells Fargo Center and into the streets to help build a third-party movement. His call to his delegates to face "reality" and support Clinton was an insulting repudiation of the reality his supporters, mostly young men and young women, had overcome by lifting him from an obscure candidate polling at 12 percent into a serious contender for the nomination. Sanders not only sold out his base, he mocked it. This was a spiritual wound, not a political one. For this he must ask forgiveness.
Whatever resistance happens will happen without him. Whatever political revolution happens will happen without him. Whatever hope we have for a sustainable future will happen without him. Sanders, who once lifted up the yearnings of millions, has become an impediment to change. He took his 30 pieces of silver and joined with a bankrupt liberal establishment on behalf of a candidate who is a tool of Wall Street, a proponent of endless war and an enemy of the working class.
Sanders, like all of the self-identified liberals who are whoring themselves out for the Democrats, will use fear as the primary reason to remain enslaved by the neoliberal assault. And, in return, the corporate state will allow him and the other useful idiots among the 1 percent to have their careers and construct pathetic monuments to themselves.
The Trans-Pacific Partnership (TPP) will be pushed through whether Donald Trump or Hillary Clinton is president. The fracking industry, fossil fuel industry and animal agriculture industry will ravage the ecosystem whether Donald Trump or Hillary Clinton is president. The predatory financial institutions on Wall Street will trash the economy and loot the U.S. Treasury on the way to another economic collapse whether Donald Trump or Hillary Clinton is president. Poor, unarmed people of color will be gunned down in the streets of our cities whether Donald Trump or Hillary Clinton is president. The system of neoslavery in our prisons, where we keep poor men and poor women of color in cages because we have taken from them the possibility of employment, education and dignity, will be maintained whether Donald Trump or Hillary Clinton is president. Millions of undocumented people will be deported whether Donald Trump or Hillary Clinton is president. Austerity programs will cut or abolish public services, further decay the infrastructure and curtail social programs whether Donald Trump or Hillary Clinton is president. Money will replace the vote whether Donald Trump or Hillary Clinton is president. And half the country, which now lives in poverty, will remain in misery whether Donald Trump or Hillary Clinton becomes president.
This is not speculation. We know this because there has been total continuity on every issue, from trade agreements to war to mass deportations, between the Bush administration and the administration of Barack Obama. The problem is not Donald Trump. The problem is capitalism. And this is the beast we are called to fight and slay. Until that is done, nothing of substance will change.
To reduce the political debate, as Sanders and others are doing, to political personalities is political infantilism. We have undergone a corporate coup. Donald Trump and Hillary Clinton will not reverse this coup. They, like Barack Obama, know where the centers of power lie. They serve these centers of power.
Change will come when we have the tenacity, as many Sanders delegates did, to refuse to cooperate, to say no, to no longer participate in the political charade. Change will come when we begin acts of sustained mass civil disobedience. Change will come when the fear the corporate state uses to paralyze us is used by us to paralyze the corporate state.
The Russian writer Alexander Herzen, speaking a century ago to a group of anarchists about how to overthrow the czar, reminded his listeners that it was not their job to save a dying system but to replace it: "We think we are the doctors. We are the disease."
We are here not to reform the system. We are here to overthrow it. And that is the only possibility left to restore our democracy and save our planet. If we fail in this task, if this system of corporate capitalism and globalization is not dismantled, we are doomed. And this is the reality no one wants to speak about.
We will have to be in the political wilderness, perhaps for a decade. But a decade ago Syriza, the party now ruling Greece, was polling at only 4 percent. This is what the Green Party is polling today. We will not bring about systemic change in one or two election cycles. But we can begin to build a counterweight to the corporate state. We can begin to push back.
We must find the courage not to be afraid. We must find the courage to follow our conscience. We must find the courage to defy the corporate forces of death in order to affirm the forces of life.
This will not be easy. The corporate state -- once its vast systems of indoctrination and propaganda do not work to keep us passive, once we are no longer afraid, once we make our own reality rather than accommodating ourselves to the reality imposed upon us -- will employ more direct and coercive forms of control. The reign of terror, the revocation of civil liberties, the indiscriminate violence by the state will no longer be exercised only against poor people of color. The reality endured by our poor sisters and brothers of color, a reality we did not do enough to fight against, will become our own.
(Note: You can view every article as one long page if you sign up as an Advocate Member, or higher).