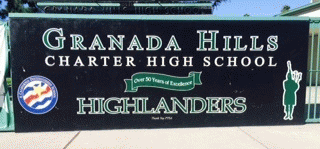 (

Image

by

Carl Petersen

)

Details DMCA

As Eli Broad prepares to implement his plan "to reach 50 percent charter market share" within the LAUSD, now is the time for Angelenos to begin asking what this privately controlled system would look like. While Broad claims that his takeover of public education will bring an "expansion of high-quality charter schools in Los Angeles," is there any proof that existing charter schools have reached this standard of excellence? Do charter schools help to "ensure that no Los Angeles student remains trapped in a low-performing school," or would this expanded network of publicly funded private schools continue to cherry-pick the easiest to teach students who are more likely to increase their school's reported test scores. Most importantly, do these schools actually want "parents [who] are effectively engaged" or will their right to elect representatives to the governing boards be revoked once these schools are established?

The LAUSD "already has more than 200 charters, the most of any school system in the country," which provides plenty of examples of how these types of schools are operated and what should be expected from Broad's private school district. One example is Granada Hills Charter High School (GHCHS), which bills itself as "the largest single education reform effort in the country." In my new blog at the K-12 News Network I detail how this school is not serving English Learners or Special Education students at rates comparable to the LAUSD. I also provide a history of its governing board, which over time has transformed from a democratically elected representation of its stakeholders to one that is appointed and, therefore, does not give parents, teachers or community members a formal say in how the school operates. Without proper oversight from the LAUSD Charter School Division, the school is receiving taxpayer money, but the taxpayers have no control of how this money is spent.

For the complete story, please visit http://thewire.k12newsnetwork.com/2015/11/01/tax-spending-without-representation/

____________________________________________

I am a former candidate for the District 3 seat on the LAUSD School Board, founder of Change The LAUSD and member of the Northridge East Neighborhood Council. Opinions are my own.