Hello, my name is Solomon Azar- I HAVE FOUND THE ROAD TO SAFE CLEAN NUCLEAR FUSION- When this is found and understood- the energy crisis will end- I have been looking at this system since 2002 and it is perfect in every way. I finished my experiments April-2007. I have since that time tried to the best of my abilities to inform many people upon the net- there is no question I have done so in an unorthodox manner- but in time it will be found my road traveled to solve this energy crisis was unorthodoxed -all my motives are for the betterment of mankind- you have your way- I have mine- it will make complete sense when heard in public of my approach- have faith :)

I have performed an experiment never done before in science- I used a Tesla coil for its use in high voltage high frequency and apply its discharge plasma not upon the dielectric of free air- but to the dielectric of water itself- specifically I used ultrapure reagent grade water from manufacture NERL-this is to establish the high degree of insulation needed for plasma (you cannot have contaminants for conductivity)- I doped my water with heavy water from the manufacturer UNITED NUCLEAR-(however- a full concentration of heavy water is desired)- I built my 1 million volt Tesla coil entire tunable- every aspect of it- as it must be done to TUNE THE OUTPUT DISCHARGE OF THE TESLA COIL to the water itself- once the arc is stable- the voltage may be increased- I have written in my pdf file in my website of noblefuse.com that a prerequisite of 750 kv is needed as an electric field gradient about the charged particles used in fusion( in this case the hydrogen bound in the water molecule) because of voltage drops as expected as in all electrical systems upon the load (load here is the water)- a much higher voltage is needed in order to distribute the voltage gradient upon entire arc plasma length between electrodes in water- THUS- THE HIGH THE VOLTAGE- THE BETTER- within my website you will find a link to youtube showing my primitive experiment- BUT MAKE NO MISTAKE ABOUT THIS- THIS IS THE FIRST TIME EVER DONE BEFORE - I propose nuclear fusion of water/heavy water- my little experiment IS THE ROAD TO NUCLEAR FUSION- we must universally connect the dots- put two and two together- and conclude this- MY EXPERIMENT MUST BE REPEATED ON A LARGER SCALE- my system is a direct replacement of nuclear power plants particularly of the pressurized water reactor which uses heavy water already - a vessel already built for gamma radiation and other high energy flux which will emit with the plasma arc-

Power reactor in which the heat is dissipated from the core using highly pressurized water (about 160 bar) to achieve a high temperature and avoid boiling within the core. The cooling water transfers its heat to the secondary system in a steam generator. Example: Grohnde Nuclear Power Plant in Germany with an electrical output of 1,430 MW.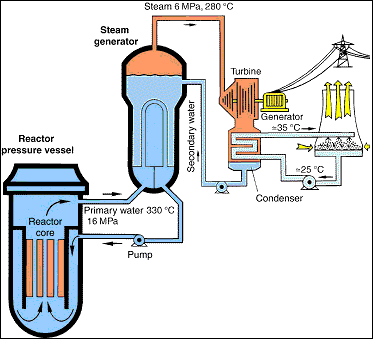 Replace the rod assemblies and use electrodes to conduct the Lightning bolt! High Voltage High frequency will create the magnetic pinch to slam the isotopes of hydrogen together which is bound in water- helium and oxygen are the outgassed products recaptured by expansion tanks-it is absolutely perfect!

_ I HAVE FOUND THE TRUE PURPOSE OF THE TESLA COIL- the answer was always in the lightning bolt- understanding of gamma bursts from lightning discharges have only been recently vindicated from satellite in late 90s---

CA 94305 United States
Said, R ( ) , STAR Lab, Electrical Engineering, 350 Serra Mall, Stanford, CA 94305 United States
Smith, D M ( ) , Physics Department and Santa Cruz Institute for Particle Physics, University of California, Santa Cruz, 1156 High Street, Santa Cruz, CA 95064 United States
Lopez, L I ( ) , Astronomy Department and Space Sciences Laboratory, University of California, Berkeley, CA 94720 United States

The observation of brief (<1 ms) bursts of intense γ-rays, the so-called Terrestrial Gamma-ray Flashes (TGFs), by the BATSE γ-ray experiment was one of the most unexpected discoveries by the Compton Gamma-Ray Observatory.


Let me try to give another analogy to make the point. think about striking a match, if all conditions are proper , one knows that to strike a match, you must go a minimum speed- you cannot strike the match too slowly- this is understood as more speed is more friction and thus more activation energy necessary to create combustion of the match material. the same applies to this fusion system, first, imagine my system as inside a pressurized water reactor used in fission plants- the moderator is already heavy water- we shall use it as the fuel. I have said the plasma arc looks exactly like our friend the electric lightning bolt- but I talk about in my pdf file- that the so called lightning bolt must be understood in regards to high voltage and frequency- just like the minimum speed needed for the match- so it is with the combination on high voltage and frequency to not only resonate with the dielectric molecule of heavy water- but more so- to create a minimum velocity upon charged particles in the fuel water. this velocity is also exhibiting itself as a magnetic field-think of the cathode ray scope- in a snap shot instant in time for analysis, look at when the maximum energy is being applied on a per strike basis of the input cycle- or shall we say the highest amplitude of the ac signal. if for example- an input energy of one megawatt was injected into the strike of the arc- a magnetic pinch shall be directed upon the charged particles in transit of the discharge- in a thermodynamic extraction process such as this - we need at least 5 times more energy out of the system to recoup our initial energy input- and a surplus for commercial energy supply- thus- via fusion of hydrogen to helium- with each strike- a minimum voltage and frequency SHALL give the minimum activation energy required for magnetic pinching and fusion of the isotopes of hydrogen. to increase the q of the reaction in this system- a magnetic toroid may be used around the plasma arc for increased efficiency= such as used in tokamak devices. I hope this analogy helps those who question this system- THANK YOU--

Here is a thought experiment for electromagnetic fusion with Einstein in mind
Pretend you are water-you are an oxygen atom- you are stable- you are noble- 8 protons-8 neutrons-and 8 electrons- there are only 5 magic shell nuclear elements of the periodic table- oxygen is one of them- it is very stable-
- Advertisement -
Therefore- you are stable and noble- you have no need for fusion- yet it could happen- but the probability of another element such as hydrogen and its isotopes would be made to fuse together in some kind of fashion mankind tries will occur way before oxygen does- - ok-so now you are this noble one and you have outstretched in your hands a hydrogen atom and or its isotope deuteron and you hold it out to mankind as a gift-
Man understands the gift of fusion for many years and is desperately trying to do such-