poster for CBG Gala to Benefit Planned Parenthood
(
Image
by PufCreativ, courtesy of Courtney Mathis)
Details
DMCA
My guest today is Courtney Mathis, CEO and co-founder of Cannabis Doing Good as well as president and co-founder of kindColorado.
Joan Brunwasser: Welcome to OpEdNews, Courtney. I doubt that many of our readers are familiar with either Cannabis Doing Good or kindColorado. Can you tell us enough to get the ball rolling, please?
Courtney Mathis: Absolutely - And great to be chatting with you! kindColorado is a consulting agency that builds social responsibility programs for businesses in the cannabis sector, with our trademarked Cannabis Social Responsibility (CSR) framework. We also provide consulting around equitable policies both within businesses and at the municipal level. We care deeply about providing opportunities for cannabis to show up as a positive community asset and create meaningful repair for those communities most harmed by the Drug War. We've been doing this for about five years and really feel as though we've been fueling the momentum around CSR in cannabis.
Cannabis Doing Good aims to inspire a standard for social responsibility between cannabis businesses, communities and consumers. We want to acknowledge and reward those companies doing good and give consumers the ability to choose purpose-driven cannabis companies. We started off doing events and socials across the country and are launching our awards this fall, followed by our international standard to be unveiled in 2020.
It's an exciting time to be part of the industry, shaping best business practices, and acknowledging leaders in cannabis who support communities, people and the planet.
JB: Lots to talk about here! You and Kelly Perez co-founded both kindColorado and Cannabis Doing Good. That's a bit unusual, no? How did that come about?
CM: Such a good story. We were introduced by Rich Male - yes that's his name. No he isn't actually rich (except in passion and humility), and yes he is a seasoned white man who also happens to be the godfather of nonprofits in Denver. Kelly and I were talking about ways to connect cannabis to communities, although our perspectives were different. Rich introduced us over coffee and our business started almost instantly. We didn't know each other AT ALL, except through mutual friends and colleagues, and immediately dove into creating kindColorado. I guess, in large part, because we were the only two crazy folks talking about this stuff so it seemed even crazier to ignore that the universe had brought us together. Turns out, we both love crystals and kombucha, home-cooked food and New Orleans, and a four-day work week.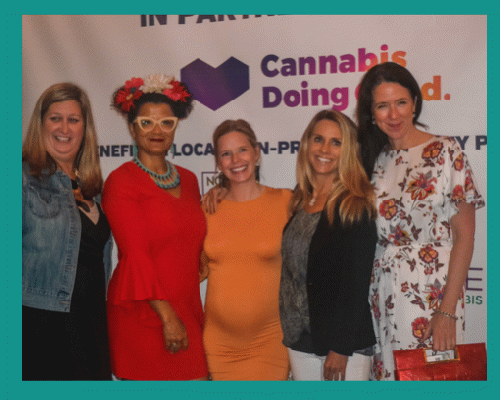 CDG Execs hanging with other #bosswomen in New Orleans; Kelly Perez and Courtney 2nd and 3rd from left
(
Image
by PufCreativ, courtesy of Courtney Mathis)
Details
DMCA
And after five years discovering all the things we have in common (and building kindColorado), we saw the needs of the industry evolve, and so started another company together, Cannabis Doing Good (CDG). Kelly is CEO of kindColorado and I'm CEO of CDG. In truth, we do nearly everything in business together. Our loyalty and love for each other is deep and it's driven by earned and nurtured mutual respect. Having a long-time business partner is a lot like having a marriage. It takes good communication, unwavering commitment and ongoing tenderness to keep it healthy. I'd be lying if I said we didn't have hard days, but they are trumped by hundreds more of really good, full of laughter and downright silly days. However, I think we've both promised each other, no more businesses, at least not for a little while.
JB: That is a lovely story! Thanks for sharing it. There's nothing inherently more altruistic about the cannabis trade than any other business. So how exactly have you gotten entrepreneurs in the cannabis community to sign on to be socially responsible? What's the process?
CM: Well, we do actually think the industry is more inclined to do community outreach. Many of the folks in the industry care deeply for the earth and for their neighbors. Often times, they've gotten into the industry because of those passions - environmental sustainability, access to medicine, regenerative agriculture, equity - you name it. Almost always if you sit down with a cannabis business owner you'll hear their story - and find out the unique reasons they joined in the industry. Is that changing more as venture capital moves into the space? Sure. But there still exists really purpose-driven owners in the space.
And if purpose doesn't drive their business - profit does. Community outreach, social responsibility, and conscious capitalism absolutely yield an ROI [Return on Investment]. As one example, according to Conscious Company Media, 80% of consumers would pay more for products created responsibly and 78% of consumers would switch brands if a different brand of similar quality supported a good cause.
So - we are able to sign-on businesses and leaders to do our work because it's good for business, employees, community and the environment. Cannabis Doing Good is an accessible way to achieve the quadruple bottom line: people, planet, purpose and profit. Fun, right?
JB: Definitely a win-win! Tell us about the gala you're planning.
CM: Magical. It's going to be a magical evening, filled with amazing entertainment from Circus Collective, hand-crafted hors d'oeuvres from local chefs, several musical acts and of course, the Cannabis Doing Good Awards. The best part of this party is its purpose. We are raising money for Planned Parenthood of the Rocky Mountains (PPRM). This one-of-a-kind charity event has cannabis industry leaders, businesses and media all collaborating to raise awareness and dollars for PPRM.
(Note: You can view every article as one long page if you sign up as an Advocate Member, or higher).