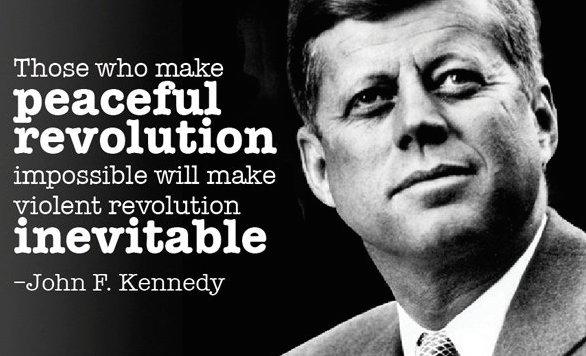 JFK on revolution.

(

Image

by

Good Men Project

)

Details DMCA



Is the Bernie Sanders revolution real?
Let's be optimistic here and say for argument's sake that it is.
Meaning that Bernie Sanders -- and ironically even Donald Trump -- has awakened a new populism in America. U.S. citizens are demanding fundamental change in the way government does business.
This uprising, this surge of awareness, is not complex or theoretical. It is simple and pragmatic. From both camps, the enlightening Sanders campaign and the frightening Trump campaign, we see frustration and outrage. The battle cry is the same.
People are saying . . .
"We're getting screwed and we're not going to take it anymore!"
This could be an incredibly powerful vehicle for serious reform, regardless of how the presidential election is decided. In spite of how the presidential election turns out!
But there's only one way that can happen. And it doesn't depend in the least on who ends up in the White House.
Remember . . .
A president is a lightning rod.
But a president is not the lightning.
We the people are the lightning.
And that "lightning" does not find its effective expression in one person.
We the people are the energy, the force, the real movers-and-shakers behind fundamental change. We the people and only we the people can shape the future we want.
The Bernie Sanders revolution, which many are hailing as a truly historic populist revolt, can only be real if we the people individually and collectively -- starting from the very bottom and working our way up -- make it real.
(Note: You can view every article as one long page if you sign up as an Advocate Member, or higher).