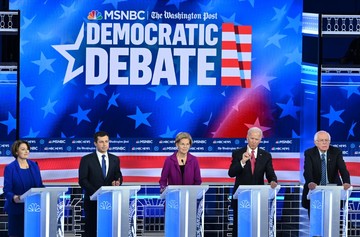 Top hopefuls Buttigieg, Sanders under fire in Democratic debate
(
Image
by
rappler.com
)
Details
DMCA
A lot will happen to change the dynamics of the Democratic race for president, starting a week from now, after Super Tuesday.
Notice in the last debate how Warren laid only mild criticism against Sanders. Logically, that makes no sense because they are splitting the progressive vote. Similarly she should lay off Bloomberg because he is helping her by splitting the moderate vote with Biden, Buttigieg, Steyer, and Klobuchar (together, these 5 have more votes than Warren and Sanders, but perhaps the divisions are not so absolute on the voter level, with crossovers between the progressive and moderate wings of the party).
But my point is this: Warren knows she is dangerously behind and may be knocked out next Tuesday. Yes, she can technically continue if, as predicted, she gets no wins, and gets few delegates, or if she can't even clear the 15% hurdle in all states to get ANY delegates. But the money, staff, and other resources, will dry up, and she will start getting the ire of the progressive wing for siphoning votes from Sanders. So, being a politician, she will concede, pledge support for Sanders, and most critically, ask her delegates to shift to Sanders. They are not required to do so, but some will to prevent a brokered convention and to give Sanders a majority. Then she can return to the Senate, head held high.
A more complicated but similar scenario exists for the moderates, but with an important stipulation in that two of the candidates are billionaires who can theoretically continue the race with no donations. Steyer is barely a billionaire, and he may decide that spending a ton of money, being shut out of future debates, and polling around 2% is not his idea of fun. Bloomberg might decide Sanders is such an existential threat (including to his personal wealth) that he should continue and aim for a brokered convention. But if Sanders has the progressive wing to himself, he can still get a majority; that fabled disaffected voter pool might get more fired up if Sanders is the lone progressive and looks like he needs a clear majority to hold off a brokered convention. Getting a majority will get the rest of the party behind him too, however begrudgingly.

I wouldn't rule out a comeback by Biden either. South Carolina, with 54 delegates, is larger than any state that has voted so far, and it's expected to go to him. If he wins by say, over 10%, he may get enough momentum to knock out the others (everyone but Bloomberg in the moderate wing is probably going to quit after Super Tuesday, and they know it too). If Bloomberg can't win any states or even come in a close second in any state on Super Tuesday, he may decide he was wrong about Biden, and drop out to support him. Bloomberg understands numbers very well, and he can see he and Biden are splitting the majority of the moderate vote, with the other three taking another 1/3 between them. (Tulsi Gabbard, bless her, is already a non-factor. She is hoping to win a couple of delegates and emerge as Sanders' pick for V.P. and has already visited one of Sanders' headquarters. It could happen, but she has to win something in terms of delegates to quell the nervousness that is sure to affect the Sanders camp over such a controversial choice. If she is completely shut out, the case for a V.P. spot, especially critical where the president will turn 80 in his first year in office, will be impossible to make).
One thing is for sure, it is going to get very interesting very soon!