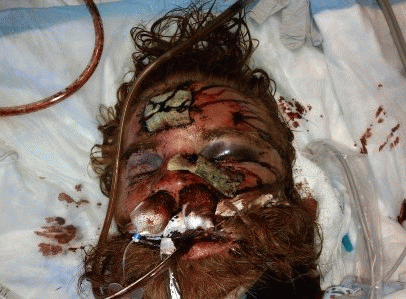 Kelly Thomas was killed by police brutality.
(
Image
by
Crime Library
)
Details
DMCA
Let me be clear about something here. When I talk about militarizing the police, I'm not just referring to equipment. I'm talking about a mentality __ a world view.
Militarizing anyone is a tough, convoluted process. As they grow up, even if boys are taught to be boys, they are also taught to love thy neighbor, be respectful of human life, thou shalt not kill, and so on. Then when taken into the military, everything is turned upside down and they are told: Okay, now forget about all of that, at least with respect to some subset of the human race __ the Japs, the Nazis, the Arabs, the Gooks, whoever. They are told that none of those old rules of kindness, even God's sacred commandments, don't apply. Thosepeople over there are your enemies. You will show them no respect, no mercy, in fact, you are to destroy them, kill them without hesitation or remorse. And if you do a good job of slaughtering them, you will be lauded, decorated with medals, become a national hero, the object of admiration and praise. Chicks will dig you.
Okay . . .
What happens when the police start seeing themselves as an extension of the military, here not to protect and serve, issue the occasional traffic violation, give talks to kids in school about being good citizens, but to PROTECT THE HOMELAND against THEM?
And then what happens, when the average American citizen comes under suspicion? Suspicion of being a misfit, a troublemaker, a dissident, a traitor? Of not being "with us" but "against us"? Of being a commie-sympathizer, a towelhead, a jihadist? What happens when databases are being kept of potential threats, of people who allegedly fit some profile of being a terrorist, lists of citizens who allegedly fail to fall in line, are suspected of trying to undermine our great country, sabotage the government, destroy the land of the brave, home of the free? What happens when the public is now seen as the potential enemy?
That's the kind of militarization of the police we most have to fear. Look at this video to see what you get.
Enough said. I don't want to be accused of being a fear monger or some wild-eyed Chicken Little paranoid. There's more than enough of that going on already. But we've all been put on notice. The signs are there and we've been given fair warning.
Given how far along I believe the militarization of the police has already progressed, what is the government __ both the law enforcement branches and many agencies who provide non-security related services like the Social Security Administration and postal service __ preparing for?
Social order breaks down when people become desperate or angry. When they are both desperate and angry, the doors for massive insurrection swing wide open. What could precipitate such catastrophic and violent breakdown of our society?
In my view, there are a number of scenarios which are not entirely out of the question __ some say they are likely __ which could drive desperation and anger. These are, I might note, what the government think tanks themselves say they're worried about.
The U.S. dollar as the reserve currency is already under assault. We have become grossly irresponsible and abused the enormous privileges we enjoyed for decades. Now the BRICS and several other nations are trying to get out from under the oppressive thumb of the U.S. banking cartels.
The supply chains for food and other necessities are long and fragile. It has been claimed, for example, that if the trucks, boats, planes and trains supplying the supermarket were to somehow be compromised, the shelves would be completely empty in just a few days. Then what? Hunger is a virulent and uncompromising enemy of social order.

The government has created such a vast pool of fear and paranoia, people have armed themselves to the teeth. Back in the 90s, the police beating of Rodney King set off huge riots across the country. Those were much calmer days than we have now post-911. With the grotesque polarization of the population on a vast array of issues, the U.S. has become a tinderbox. It's hard to predict what the spark might be that will set it all off. But it sure doesn't take a Nostradamus to see what's coming.
With Syria, Iran, the Ukraine, the encirclement of Russia and China by the U.S. military, it is obvious to anyone looking that there's a psychotic rogue element within the architecture of the U.S. government that is itching for a war. When it happens, with economies across the landscape on the brink of collapse and the fragile balance of peace in the world ready to shatter, this will mean conflagration and chaos like never before in history. If America in the midst of this insanity, were to go nuclear __ and yes, my friends, there are plans for it __ even if there's no sizable retaliation and we survive, the U.S. will become a leprous pariah in the international community. However you stack it up, if we continue on our present course and are the instigator of a major war, America will end up bankrupt, scorned, isolated __ a pathetic shell of a once glorious nation.
(Note: You can view every article as one long page if you sign up as an Advocate Member, or higher).