More than 17,000 people are dying every year in the U.S. from opioid overdoses. Emergency room admissions for opioids other than heroin leaped from 299,000 in 2001 to 885,000 in 2011 and are still growing. Narcotics have made a comeback for two reasons: younger clinicians lacked the addiction awareness of their older peers and Big Pharma has churned them.
As problems with addiction and diversion of narcotics surfaced in the 1960s and 1970s, regulations were put in place to restrict the use of opioids and tighten their control. But by 1990s, the pendulum had swung back, thanks to new pills like OxyContin and the profit motive.
Big Pharma began to pay doctors to recommend narcotics, once limited to acute pain after injury and surgery and terminal illnesses, for conditions that were once unthinkable. The pills were not only prescribed for back pain, fibromyalgia and hip replacement but for depression, divorce and boredom.
The American Geriatrics Society for example changed its guidelines in 2009 to recommend opioids in place of ibuprofen and naproxen. What? Half the panel's experts "had financial ties to opioid companies, as paid speakers, consultants or advisers at the time the guidelines were issued," reports award winning journalist John Fauber. The University of Wisconsin's Pain & Policy Studies Group took $2.5 million from opioid makers even as it pushed for looser use of narcotic painkillers, he reports.
A pain guide called Finding Relief: Pain Management for Older Adults, endorsed by the American Geriatrics Society and funded by the Pharma company who makes the opioid products Duragesic, Ultram ER and Nucynta claims that opioids "allow people with chronic pain to get back to work, run, and play sports." It says that fears that patients may need increased doses of opioids over time are a "myth." Right.
Many physicians and medical groups also downplayed narcotic dangers, either because of Pharma marketing or because they had seen few opioid addicted patients themselves. In either case, there was a new impression in much of the medical community that opioid drugs were somehow no longer dangerous.
With these changes, "pill mills" and "pain clinics" proliferated overnight dispensing opioid painkillers with few questions asked. Some had armed guards which should have been a tip-off. The pill mills usually required no appointments, took no insurance and gave only cursory attention to medical records and physical examinations. One Florida mill lured 12 doctors to its operation who made $37,500 a week--at $100 per prescription.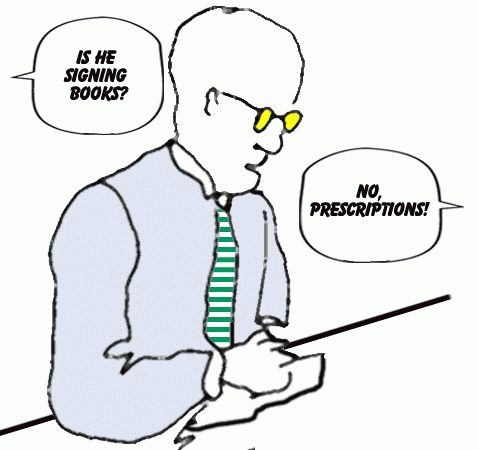 The Government Has Tried to Shut Down Opioid Pill Mills
(
Image
by
Martha Rosenberg
)
Details
DMCA
In 2014, a former pharmacy services director at Beth Israel Medical Center was charged with possessing oxycodone with a street value of almost $5.6 million. Nice.
(Note: You can view every article as one long page if you sign up as an Advocate Member, or higher).