Helen Thomas was a White House correspondent for many years, one of the few who stood up to power and asked tough questions.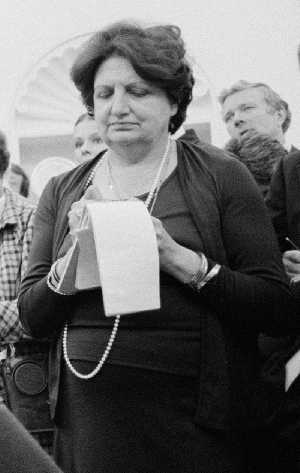 (

Image

by

(From Wikimedia) Marion S. Trikosko

, Author: Marion S. Trikosko)

Details Source DMCA

by

Wikipedia

from wikipedia:

Helen Thomas (August 4, 1920 -- July 20, 2013) was an American author and former news service reporter, member of the White House press corps and opinion columnist. She worked for the United Press and post-1958 successor United Press International (UPI) for 57 years, first as a correspondent, and later as White House bureau manager. She was a columnist for Hearst Newspapers from 2000 to 2010, writing on national affairs and the White House. She covered the administrations of ten U.S. presidents--from the final years of the Eisenhower administration to the second year of the Obama administration.

Thomas was the first female officer of the National Press Club, the first female member and president of the White House Correspondents' Association, and the first female member of the Gridiron Club. She wrote six books; her latest, with co-author Craig Crawford, is Listen Up, Mr. President: Everything You Always Wanted Your President to Know and Do (2009). Thomas retired on June 7, 2010, following controversial comments she made about Israel, Israeli Jews and the Israeli--Palestinian conflict.[1]