Should They Stay or Should They Go, The Clash
Soros talk in Malaysia.
(
Image
by
(From Wikimedia) Jeff Ooi
, Author: Jeff Ooi)
Details
Source
DMCA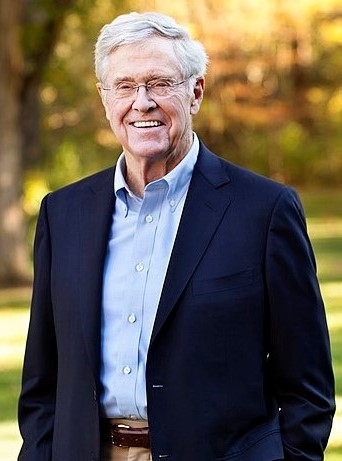 Charles_Koch_Portrait.jpg
(
Image
by
(From Wikimedia) Gavin Peters
, Author: Gavin Peters)
Details
Source
DMCA
Peter Phillips' Giants The Global Power Elite , in a letter with over 130 signatures to 389 global power elites, according to him, one of several $17+ trillion clubs who manage the wealth of the 1% Transnational Capital Class "suggests" that they convince their masters, The Giants, to change course, However, (emphasis mine), using the framework of an Universal Declaration of Human Rights.
Paraphrasing, he states that all the evil crap that they are doing such as murdering, thieving and lying will be stopped, (emphasis mine) - in other words, they need to clean up their *!$%*#$ mofo act and step up.
According to the title in a Stephen Kinzer June 30, 2019 Boston Globe article, "In an astonishing turn, George Soros and Charles Koch team up to end US 'forever war' policy" via the Quincy Institute for Responsible Statecraft. The Quincy Institute claims Kinzer will likely advocate a withdrawal of American troops from Afghanistan and Syria; a return to the nuclear deal with Iran; less confrontational approaches to Russia and China; an end to regime-change campaigns against Venezuela and Cuba; and sharp reductions in the defense budget.
They plan to publish four reports by years where The Quincy Institute will promote a foreign policy based on that live-and-let-live principle.
... according to Kinzer, Soros's Open Society Foundation and the Charles Koch Foundation - have each contributed half a million dollars to fund its takeoff. A handful of individual donors have joined to add another $800,000. By next year the institute hopes to have a $3.5 million budget and a staff of policy experts who will churn out material for use in Congress and in public debates. Hiring is underway.
In place is, Trita Parsi, former president of the National Iranian American Council and a co-founder of the new think tank "It shows how important ending endless war is if they're (Soros and Chas. Koch) willing to put aside their differences and get together on this project. We are going to challenge the basis of American foreign policy in a way that has not been done in at least the last quarter-century."
It seems that The Giants either didn't get a copy of Peter Phillips letter to some of the power elite, or The Giants think they have a plan to rule the world for the next three hundred years.
Instead, The Giants listened by giving us two of the most scurrilous amoral critters on the plant, Soros and Chas. Koch (co*k)? Is this purely for name recognition sake?
I can't find any acknowledgment of even addressing the damage to millions that have been slaughtered in the fiascoes, fiascoes to the little people, but successful to both critters and their respective Giants.
I didn't see a hint about giving back the quadrillions in pecuniary and land that they have stolen over the past three hundred years. Quadrillions are big numbers for us little people, but it might be Quintillions, But at least they acknowledge that they plan scrape up a mere $3.5 million by next year for the QI.
QI wants to pursue less confrontational approaches to Russia? What a bullsh*t use of the word, less! Why not some more explicit language such as they intend beat back the spitting and snarling NATO beast including ending t he training of the Western and Central Ukraine as an attack dogs against Russia?
Not a peep about reining in rogue states of the West including Israel and punishing war criminals starting this week . Is this too much for the world to ask for?
Nor did I see anything about repairing the destruction their neoliberal have caused to the middle and lower classes of the west...nope not a god damn mofog thing.
However the QI website does reveals that they are accepting job applicants. The scope and breadth of the list is paltry. This is obvious window dressing. They already have a team, their own team , which is why they've remained The Giants for centuries.
(Note: You can view every article as one long page if you sign up as an Advocate Member, or higher).