Bobby Ramakant, Citizen News Service (CNS)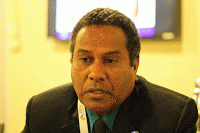 Dr Paison Dakulala, Health Department, Papua New Guinea

(

Image

by

Citizen News Service (CNS)

)

Details DMCA

Video interview with Dr Paison Dakulala of PNG is online at: https://www.youtube.com/watch?v=KZZPWIXWux8

A country like Papua New Guinea (PNG) with 20% projected economic growth rate, still has half of its population at or below the poverty line, and epidemics like TB, are setting off alarm bells - year after year! "Papua New Guinea is a land of the unexpected! 800 languages, overcrowded households, serious environment challenges - are just some issues that make TB control even more complex. 26% of all new TB patients, are children" said Dr Paison Dakulala, Deputy Secretary to Department of Health, Papua New Guinea.

[Watch the CNS interview with Dr Paison Dakulala online at: www.youtube.com/watch?v=KZZPWIXWux8 ]

Half of country's provinces have been identified as high burden for TB-HIV, and one-fifth provinces in PNG are high burden for multidrug-resistant TB. Dr Dakulala spoke with Citizen News Service (CNS) at the 5th Asia Pacific Region Conference on Lung Health, of the International Union Against Tuberculosis and Lung Disease (The Union).

Is fight against TB going forward or receding?

One cannot help but be reminded of the idiom 'embarrassment of riches' because despite the wealth of knowledge and evidence of what works (and what does not) in TB care and control, countries such as Papua New Guinea have a very long way ahead to get back on track for ending TB eventually. And let us not assume it is a financial resource issue because it is not! Problem is perhaps more complex as 'devil lies in the details.'

Thankfully, among other donors, the Global Fund to fight AIDS, Tuberculosis and Malaria (The Global Fund) has also financed the fight against TB in Papua New Guinea. The results are positive with prevalence and morality rates dipping, but on the other hand, number of patients whose treatment gets interrupted is increasing, and TB treatment success rate is on a decline. "10% of all new TB patients are rifampicin-resistant in national capital district, and some other provinces have even higher rates of drug resistance! 34% of MDR-TB patients were identified from Daru hospital alone" said Dr Dakulala.

"We have a public health emergency in Daru province in the West PNG because this province had a long history of poor supervision of anti-TB treatment (poor DOTS), very large number of patients who are lost to follow up, failure to confirm the cases basic test for TB (smear microscopy) and failure to identify drug-resistant TB cases until recently when Gene Xpert machines came in" said Dr Dakulala.

(Note: You can view every article as one long page if you sign up as an Advocate Member, or higher).