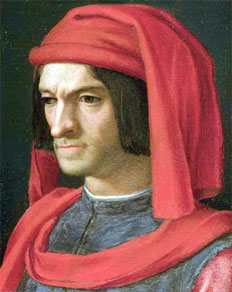 Lorenzo de Medici, Patron, Inspiration, and sometimes Nemesis for Niccolo Machiavelli
"He who desires or proposes to change the form of government in a state . . . must needs retain at least the shadow of its ancient customs, so that institutions may not appear to its people to have been changed, though in point of fact the new institutions may be radically different from the old ones. This he must do because men in general are as much affected by what a thing appears to be as by what it is, indeed they are frequently influenced more by appearances than by the reality." Discourse 25
A summary of Discourses 25 -- 27
If a new prince or governor wants to change the form of an existing government, without disturbing or alarming the citizens, he must keep all the outward forms of the original government unchanged. As long as they appear unchanged, the ordinary citizen will fail to notice or be alarmed by their changing functions. People pay more attention to appearances than they do to the realities of the governance. So, the new prince or governor should make as few changes to appearances as possible. The shielding of change is necessary when trying to change any existing government into another form; into a republic, an autocracy, or a princedom.
When a conquering prince or despot takes over a government, he must change everything as quickly as possible. He must get rid of all existing offices and their personnel, replacing them with offices having different names and functions. Members of the former government must be imprisoned, killed, or exiled along with anyone thought to oppose the new government.
Moving populations and changing the locations of the government disrupt attempts to reinstate the former government.
When the take-over has been accomplished, making a peace with the population and providing the population with security is necessary for the new government to continue past the tenure of the initial rulers.
Very few people are entirely bad or entirely good. Not being entirely bad can be the weakness that will allow the toppling of a despot. When he is confronted by a moral challenge that he is afraid or unwilling to face, his lack of action may destroy him.
Next Page 1 | 2 | 3 | 4 | 5 | 6
(Note: You can view every article as one long page if you sign up as an Advocate Member, or higher).