I want here to show that the speech of Ben S. Bernanke in Jackson Hole on Friday will have a formidable effect on credit markets, debt instruments and specially on junk bonds.

This is probably the most important paper I ever wrote since my article (in French) in le Brognart a defunct weekly for Paris finance professional: "La Bonde du Jacuzzi." Let's call it my closing argument before the jury gets out on Sept. 9th.

After being to late on Monday "The Nemesis of Bonds Yield Bottom" and too late on Tuesday for the reversal on long dated treasuries yields, "The Nemesis Update". I finally got my hammer on the 10 Years US Treasury Notes.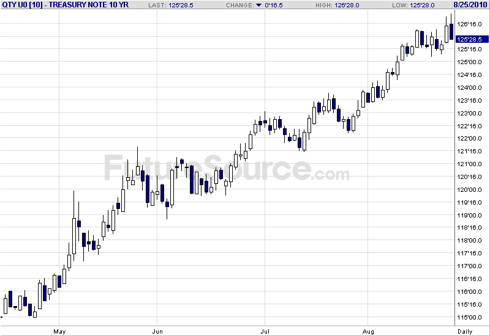 Those who follow my lead have been making paper loss for one day. From 4.249% till 4.420% for a little bit less than 5 hours! Not bad! :)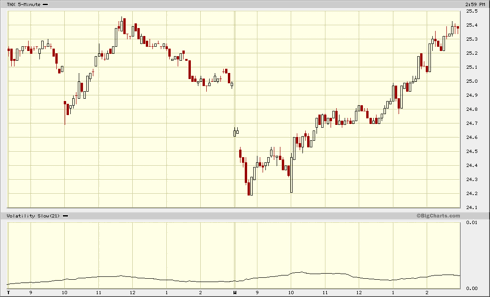 What is ahead?

With the auction on 7 years US Treasury notes coming out tomorrow, which I expect to be bad although not dismal with very low indirect buyers,and as every one knows, with primary security dealers pushing rates up before the auctions (in order to get a high volume at a cheap price.) It is almost a done thing that we will have a gap on the upside on the 10 Years US Treasury which will build a two days island reversal plus a hammer. A very bearish technical configuration for long dated Treasuries.

What is very important to notice is the fundamental environment in which this technical took place. It is clear that yesterday none of the economic figures were good they were all worse than expected:



Consensus

Consensus Range

Actual

New Orders - M/M change

2.5%

1.0%to6.5%

0.3%

Ex-transportation - M/M

-3.8%

New Home Sales - Level - SAAR

340K

310Kto350K

276K

What any trader knows is that if a market trades against the fundamentals it demonstrate a strong capacity to go forward. We know that at the minimum and in a matter of days the yield on the 10 Years US Treasury Notes will close the gap they left when going down and will, at the minimum, get to 2.690% in just a few days.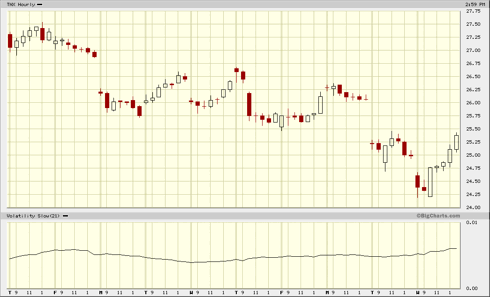 - Advertisement -
More importantly it underscores my analysis: I said in "Update on the Nemesis":
Although dismal news are in the pipeline long term rates bottomed as the undervaluation of long term yield became unsustainable from an option valuation point of view..




What it means is clear: although the demand for investment necessary to maintain the prevalent level of economic activity is very low, probably less than 2.40% on 10 years (discounted for all the risks except interest rate risks). The offer of funds is higher and will get even at higher rates as the market get closer to the fair valuation of long-term interest rates.
This is precisely the kind of development I was expecting since the spring of 1994!
This is precisely why we reached "The Limit of Quantitative Easing."
Bernanke Dig His Jackson Hole
:
As we may have noticed now every time the Chairman spoke about how he intended to stimulate the economy it rose expectations. We, the vulgus pecum look up at him as the Deus ex Machina.

If only he didn't run out of gas!