"Carlos Vecchio leads Venezuela's government from the US," a Miami Herald headline announced at the time.
The reliably anti-Maduro paper reported: "For the past four years, Carlos Vecchio was a fixture at Venezuelan restaurants in Doral, standing beside lawmakers and community leaders as they railed against" Maduro. The Herald noted that Vecchio opted to spend his time in "the city with the highest percentage of Venezuelans in the entire country," rather than in New York or DC.
"I've known Carlos Vecchio a long time," remarked Florida Senator Rick Scott. His counterpart, Rubio, said of Vecchio, "We all know who he is already."
Guillermo Zubillaga, senior director of Public Policy Programs and Corporate Relations at the Council of the Americas, could hardly contain his excitement when discussing Vecchio with the Herald.
"I'm sure Carlos is perfectly suited to be a diplomat," he gushed, "You can ask any opposition figure from many parties and they will tell you they don't have anything against Carlos."
Zubillaga celebrated Vecchio's ability to charm members of both major US parties, noting the pro-coup positions of Democrats like Rep. Debbie Wasserman-Schultz as "evidence of [his] work."
According to Zubillaga, Vecchio "has something few people in Washington have: bipartisan support for his cause."
But as coup dragged on and Maduro remained firmly entrenched, Vecchio's cheerleaders would learn that bipartisan support in the US did not guarantee popular support where they needed it most.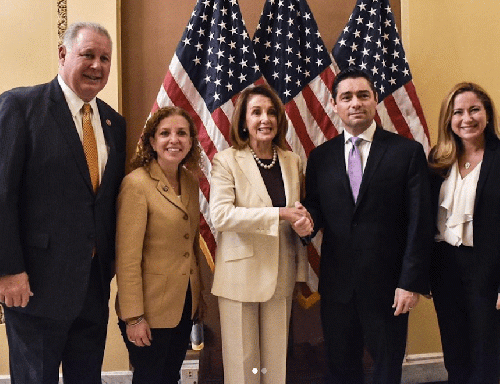 Vecchio with Democratic congressional leaders including Nancy Pelosi and Debbie Wasserman-Schultz. (Archive)

(

Image

by

File Poto Venezuela Analysis

)

Details DMCA

The battle for embassy in DC

On May 1st, the day following Juan Guaido's flubbed military putsch in Caracas, a determined Vecchio marched down 30th street in Washington DC's upscale Georgetown neighborhood preparing for a coup of his own. For over 24 hours, dozens of Guaido supporters had encircled Venezuela's US embassy, and word among members of the anti-war activists stationed inside was that Vecchio would attempt to enter the building that day.

In the moments before Vecchio's arrival, a mob of coup sympathizers guarded by US Secret Service swarmed the embassy, harassing peace activists outside and hectoring those in the building. Many of the opposition members resorted to racist, sexist and homophobic taunts, threatened the peace activists with violence, and even vandalized the embassy. Their ugly displays stood at odds with the dapper image Vecchio had affected, but they would have been familiar to anyone who had witnessed the chaos stoked by his Popular Will party over the years in Venezuela.

When representatives of the coup government began trickling in for Vecchio's press conference in the late afternoon, they were met by the thunderous chants of the Embassy Protection Collective amplified by speakers blaring down from windows on the third floor.

- Advertisement -

"How many coups does it take? Vecchio is a fake!"

The cries from above drowned out Vecchio's address when he arrived on the scene. He was forced to flee the scene of what was supposed to be his victory lap without even an attempt to enter his own supposed embassy. It would be twenty three long days before he was able to set foot inside the building.

The co-author of this piece, Anya Parampil, was an embedded journalist inside the embassy throughout the standoff. She attempted to question Vecchio multiple times, but was either roughed up by his supporters as she approached him or ignored. Vecchio did not respond to interview requests and questions sent in advance of this article's publication.

In the midst of his battle for the embassy, Vecchio's powerful allies threw him a consolation prize. On the evening of May 14th, Florida Sen. Rick Scott presented the wannabe diplomat with the International Republican Institute's Freedom Award. The ExxonMobil and National Endowment for Democracy-funded organization had dedicated its prize established "to honor individuals who have worked to advance freedom and democracy in their countries" to "the Venezuelan people."