"Thank you Elliot," Vecchio exclaimed during his acceptance speech, motioning towards Trump's special envoy to Venezuela and convicted Iran-Contra felon Elliot Abrams. "Thank you for becoming a friend in this fight."
Following the ceremony, Vecchio was ferried to the Venezuelan embassy, where he gifted the award to a large crowd of pro-coup activists still rallying outside. As during his previous appearance on embassy grounds, activists bellowed mocking chants from their loudspeaker inside the embassy.
Vecchio mingled with the crowd, un-phased by the relentless scorn. Several days later, once US agents had raided the embassy and arrested the activists inside, Vecchio returned once again to rile up his supporters and address the media.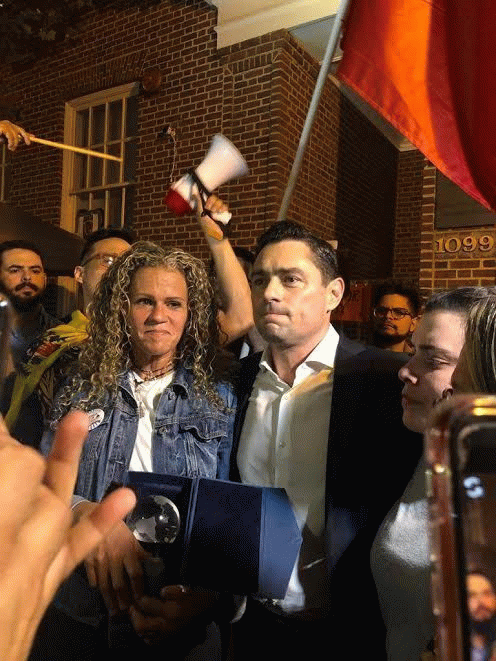 Vecchio with his supporters outside Venezuela's embassy in DC. (Archive)
(
Image
by
File Poto Venezuela Analysis
)
Details
DMCA
"We have a liberated embassy!" Vecchio announced, flanked by a raucous crowd of emigres.
He might have been unable to provide consular services like visa renewals due to the failure of the coup, but Vecchio was ready to declare a major triumph.
"I am grateful for the patience of the Venezuelan people," he continued. "But I also want to thank the Government of the United States: many thanks! And thank you to President Trump, also. Thank you to the Department of State. Thank you to the security services that were an incredible help" The Secret Service, to all of the security bodies, the local police" many thanks!"
With his long list of shout outs, the former Exxon lawyer revealed the true forces behind the political movement he represented. In between Washington and Miami, among the Venezuelan diaspora and US political elite, Carlos Vecchio had found a constituency without winning a single vote.
Edited by Venezuelanalysis.com.