Former VP and Presidential Candidate Al Gore
(
Image
by
Center for American Progress Action Fund
)
Details
DMCA
JB: Before we discuss our options, you didn't answer the age-old question, where is the press?
HW: The media can't seem to handle the idea that our elections are a total sham. There was some coverage of disenfranchisement leading up to the 2016 election. But not much. And no follow through. The reality that our voting machines are totally rigged is simply "conspiracy theory" in their eyes. And they are unwilling to make the slightest effort to research the realities.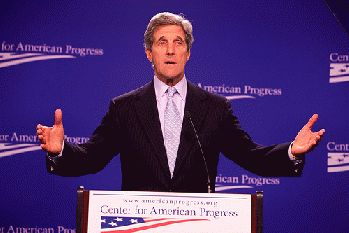 Senator John Kerry
(
Image
by
Center for American Progress
)
Details
DMCA
JB: Sadly, you appear to be right. Which brings us to possible paths of action. I read something encouraging from the Jill Stein camp regarding their lawsuit in Pennsylvania. Would you care to discuss that for a moment?
HW: What Jill Stein's brave campaign made clear is that the electoral system is completely corrupted and impenetrable. Even in a state like Pennsylvania, which has a Democratic governor.
Nationwide, our elections are simply a bad joke. They need to be reformed from top to bottom, with universal automatic voter registration, a four-day holiday for voting, ample places to vote, hand-counted paper ballots, automatic recounts at no charge to candidates and abolition of gerrymandering, the Electoral College and corporate money in campaigns.
It's a simple, clear agenda but a monumental task to win. On the other hand, without it, we have nothing resembling a democracy.
JB: Do you want to talk about Jill Stein's lawsuit?