So just suppose, for a moment, that our high school kids studied electricity in part by shadowing a master electrician. Developing expertise in how to wire a home electrical system. Really understanding loading, grounding, and the role of circuit breakers. Would some have a running start on a career as a master electrician? Would those going to college to study physics be able to light up a light bulb with a wire and battery? And would we have more adults that know what to do when the electricity goes out? Applied learning is advantageous to almost all involved . . . except the testing organizations. It's easy to test a student's recall of Coulomb's Law and ability to take three parameters and solve for the fourth.
It's much, much harder to use a standardized test to assess someone's real-world expertise. So we have our kids study what's easy to test, not what's important to learn. And, fast forward, our kids leave high school with no demonstrable applied skills, so their only choices are more formal, costly education or taking some crummy minimum wage job. Shouldn't the purpose of education be to give our students multiple fulfilling paths forward, instead of just having them jump through college-ready hoops?
This issue gets right at the core of the health of our democracy. Today, our society elevates the worth of someone with a college degree, with many viewing those without a college degree as second-class citizens. That pervades our K-12 curriculum, which by the way is mapped out by a bunch of education PhDs with no real-world experience. But to get that college degree, a student and her/his family need to come up with $75K or more. Some get scholarships, but many are draining retirement or going deeply into debt.
And look at the harsh math of those heading off to a four-year college. Just over half graduate in six years or less. Of those who start, about 25% get the kind of job we assume all college grads will secure. And some 70% leave with an average student loan debt of $43,000 -- which dogs many for decades. So for many, many adults in the U.S., education didn't open doors for them, and they don't see education as an affordable path forward for their children. And when employers use a college degree as a convenient filter, and when our best colleges are mostly filled with our affluent kids, we are making it almost impossible for a child growing up in a low- or middle-income family to realize the American Dream. As society bifurcates into the haves and have nots, with college tilting the scales heavily in favor of the affluent, we sow the seeds of our democracy's demise. And if you're skeptical, just look at what's unfolding right before our eyes in America today.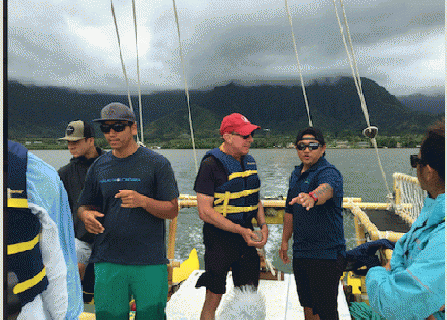 A voyaging canoe, outdoor classroom for a non-profit organization for traditional Hawaiian navigation and opportunities for ocean-based careers
(
Image
by Josh Reppun)
Details
DMCA
JB: Let's shift gears a bit. Your team made an interesting decision regarding the distribution of your film, Most Likely to Succeed. It's not available on Netflix.Why not?
TD: The purpose of the film isn't to entertain, but to help schools move forward. If I had sold it to Netflix, people would watch it at home alone on their laptop, and nothing would change in the schools they care about -- except they might get even more frustrated with the status quo. But we've now supported some 7,000 community screenings around the world -- in 35 different countries. And the film is playing an important role in helping schools, districts, communities, and even states move forward. It brings people together, raises thoughtful questions, and gives them real energy about the possibilities that can be attained if we have the courage and vision to re-imagine school. As a friend told me, "Netflix is where social change documentaries go to die." Well, we picked a different route and are thrilled with the results.
JB: Fabulous! Now what? Where do you go with all this energy and involvement?How do we make sure that the ball is not dropped and that inertia and the standardized testing industrial complex don't continue to reign?
TD: That's the single most important question facing our country. How do we give our citizenry the right kind of education that enables individuals to lead fulfilling, meaningful lives? We're not anywhere near doing that today. With our current policies and priorities, we impose on our schools, teachers, and classrooms a standardized curriculum that largely serves the needs of those who want to rank performance. We choose to make life easy for college admissions and legislators, very much as the expense of real learning. But it doesn't have to be this way. The film Most Likely to Succeed is catalyzing change in schools and districts all over the country, and in schools around the world. Over the past two years, I've spent lots of time, and made grants, to help advance education in two very different states -- North Dakota and Hawai'i -- and their progress has been remarkable. The approach is the antithesis of our federal top-down central planning standardized data-driven policies. What's proving effective is an innovation change model. Teachers are trusted and are leading the way with small steps leading, over time, to big change.
Our website offers an innovation playlist with helpful resources to facilitate grassroots progress. But, the course of history reminds us that this is the only way deep and lasting change ever occurs. I was talking this week with a senior person at a very large foundation that, despite investing lots of money in education, hasn't made much of a positive contribution. My point to them was that if you insist that people do something they have no voice in and don't believe in, even massive amounts of spending won't make good things happen. But if you empower people to do what they believe in, to set their own goals, to take real ownership for their actions, remarkable things happen with only modest amounts of financial support.
Will America step up to the challenge of re-imagining our schools? In a timely way? That's far from clear. If we don't, I'd bet that democracy as we know it collapses. The stakes are that high. If millions count on education to open doors for themselves and their children, and it actually prepares them to fail, well, there will be hell to pay. And machine intelligence is advancing rapidly. But our country is capable of doing great things when we work together on an aspirational goal. And what's more aspirational than making school engaging, authentic, and filled with purpose? I can't think of a better cause.
Ted Dintersmith in center
(
Image
by
cvilletomorrow
)
Details
DMCA
JB: Well put, Ted. I've been thinking a lot about this since we've started talking. About the purpose of education and what we should be getting out of it. Like many of my peers, I went all the way through high school and college and got a master's degree. I've worked in various white-collar jobs over the years. Yet I've never really felt the same kind of satisfaction I've gotten by putting together a piece of furniture, navigating cross-country in the pre-GPS days, gardening, writing, or even tough word puzzles. The academics never really gave me any sense of mastery, that I could function in the real world as a puzzle-solver or creative person. In fact, I've thought many times over the years that if I were to live my life over again, I'd want to be whatever the female equivalent of a handyman. How does this figure into the mix, or am I overthinking this?
TD: I don't think you're overthinking in the slightest. There's real satisfaction in creating something, in making something work, in taking on a problem and see tangible improvement from your efforts. It's just that almost none of that happens in most of our school years. In a very real way, we prioritize data tied to low-level tests over what matters in life. For some, school comes easy and the process works . . . at least for a while. And those academic hoop-jumpers are put on a pedestal in our society, accelerating their rise to the top of policy bureaucracies where they can -- surprise, surprise -- elevate the importance of academic hoop-jumping. And yet, how many of us can readily point to the academic superstars in our lives who just seem clueless in life, and the expert 'handy person' who has the most thoughtful set of views on a wide range of topics?
We live in a society that glorifies the academic, that uses it to rank and sort, and that has an education system that affords huge advantages to the affluent. The playing field is very tilted, and tilted in the direction of a type of learning that prepares someone to be a college professor, but is almost entirely decoupled from the real world. As a result, millions not only feel that they're left out, they are being left out. And so why should we be surprised when millions vote in shocking ways, willing to throw hand grenades into the ballot box? Or when people in desperate circumstances turn to drugs or violence. We're seeing the splintering of our society, and it stands to get far worse. But it doesn't have to be this way. If we reimagine school, if we challenge kids with real-world projects that value a wide range of competencies, if we respect all paths, we could unleash an entire new generation of purpose-filled creative problem solvers. We can. But will we? That's the question that will define the future of our democracy.
Change happens slowly right up until it happens quickly.--Ted Dintersmith
JB: Indeed. You raise basic questions that affect the very future of our nation. Anything we didn't touch on yet that you'd like to talk about before we wrap this up?