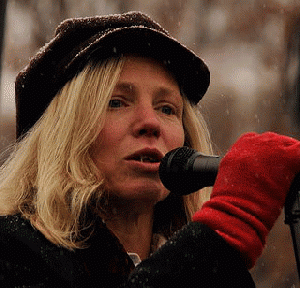 Dr.Margaret-Flowers
(
Image
by
Backbone Campaign
)
Details
DMCA
Margaret: Certainly. Thank you for asking, Joan. This is one of the major reasons that I am involved in the fight against Fast Track and these treaties. Not only will they reduce access to health care, but the impacts they will have on food safety and contamination of the environment will also significantly harm health.
Several sections of the Trans-Pacific Partnership (TPP) that have been leaked show that it will raise the cost of health careand prevent the healthcare solution that we need, a single payer or Medicare for all system. Pharmaceuticaland medical device corporations will have the ability to 'evergreen' patents, which essentially means that they can renew patents over and over. There are also more barriers to the production of generics. This allows these corporations to keep their prices high, and therefore their exorbitant profits, which reduce access to necessary medication and treatment.
Pharmaceutical and medical device corporations also have greater legal standing to force health systems to pay higher prices. In fact, they can require health systems to help pay for the costs of marketing, which costs more than the research, development and production of these entities. The most recent leak of the TPP by Wikileaks shows that our Medicare system is a particular target. The TPP will force Medicare to cover expensive drugs and treatments even if there are more effective and less costly alternatives available. The impacts on Medicare's budget is that cuts in services will need to be made to compensate for higher spending on drugs and treatments.
The TPP is also attacking our public health systems in other ways. A chapter on investment leaked in 2012 shows that state-owned-enterprises (defined as any entity that receives advantages in part or in full from the government) are considered threats to private enterprises and that private entities should be given the same advantages as public ones. This will lead to further privatization of our public health systems and will prevent us from moving to single payer because creating a public universal health system would be seen as unfair to private health insurers.
Beyond this, the TPP and other treaties being negotiated will prevent us from passing laws to protect the health and safety of our communities and our environment. The Investor State Dispute Settlement (ISDS) chapter allows corporations to sue our governments if laws interfere with their expected profits. The cases are heard in an international trade tribunal that operates outside of our judicial system and that has the final word, making it of questionable legality under the US Constitution. Under ISDS, educating the public about the dangers of products such as cigarettes would interfere with profits. Labeling food so that we know if it contains genetically-modified organisms (GMOs) or other harmful ingredients would interfere with profits. If a community tries to prevent a corporation from poisoning its land, air or water, that would interfere with profits. And in all of these scenarios, if the public votes democratically to demand public health education, food labeling or environmental protection laws and is then sued by a corporation for billions of dollars, then the law will be repealed.
This exact situation happened while we were camped out on Capitol Hill. Canada and Mexico sued the US in the World Trade Organization trade tribunal over our Country of Origin Labelingor COOL law which requires meat sold in the US to be labeled with the country of origin. This was perceived as a 'trade barrier' and the tribunal ruled against the US. Rather than face potentially billions of dollars in fines, Congress members were called to the Capitol one night to vote to repeal the law. Even John Boehner, one of the main leaders pushing fast track and the treaties, complained about being forced to repeal the law. Of course, the three Obama trade treaties will expand these Trade Tribunals power over all levels of government making it more difficult for them to act in the public interest.
These are some of the ways that the treaties will directly harm our communities. And this is why some communities are passing resolutions which say that they will not comply with secretly negotiated treaties if it comes to compromising the health and safety of their residents. These are known as 'TPP-Free Zones' and we expect more communities to pass them.
Since we began this interview, Congress gave the president fast track authority. What comes next? Is the fight over? Can the TPP and other trade agreements still be stopped?
Kevin: It is worth noting that both Houses of Congress passed Fast Track trade authority with the minimum number of votes requires; 218 in the House and 60 in the Senate. We see this as choreographed corruptionas the Congress knew there was a populist revolt against the fast tracking these trade treaties and did not want one politician more than necessary to risk their political careers by voting for fast track.
This demonstrates that we have political power. We need to build it and use that power in the upcoming political effort to stop each of the three trade treaties Obama is pushing. The first to come before Congress is almost certainly going to be the TPP. President Obama has been negotiating this for over six years and the US Trade Representative has said that it is 95% complete. When the negotiations are completed and the agreements are initialed they will be sent to Congress. One thing we won during the Fast Track campaign was more time for Congress to see the TPP. The Congress will receive it for 60 days before the Fast Track clock starts counting, then there will be additional time for the House to debate and vote followed by the Senate.
So we will have several months to educate, organize and mobilize people. This is likely to occur in the Fall, some estimate the likely time will be November. We will know more about the exact dates as we see when the negotiations are finalized. The key thing about that timing is the election season. Anytime after Labor Day is considered the re-election season for members of Congress. This puts them more on edge, more concerned about the voters. As we saw in the Fast Track vote, only the minimum number would take the risk of voting for Fast Track. Elected officials concern with public opinion, and fear of a populist revolt, will be an even greater concern in the fall.
If it is November when the TPP comes before Congress, then the debate on the TPP will be perfectly timed to become a national issue because the Iowa Caucus occurs on February 1, the New Hampshire primary is on February 9, the Nevada Caucus is on February 20th and the South Carolina primary is on February 27th. Right now in both the Republican field and Democratic field, there are differences of opinion on these corporate rigged trade agreements. We already saw Hillary Clinton squirming during the Fast Track debate. This means that the TPP is very likely to become a national issue educating tens of millions about it and mobilizing even more than were active during Fast Track.
We have talked to people in the various organizations who were in the Stop Fast Track coalition as well as on the ground activists since the vote on Fast Track and the reaction is not dejection but anger. Our job is to harness that anger to mobilize people in an effective way.
Ralph Nader suggestsa first step: send the legislators who supported the fast track "a CITIZENS' SUMMONS to appear at a town meeting where you, not they, present the agenda. If the lawmakers think 500 or more determined people will show up, it is very likely they will relent and meet with you." August is recess and many members are home. This is a good time to pressure them and let them know voters saw what they did. This approach is also an opportunity to build the movement against the TPP.
If people want to stay involved in the battle against the TPP, we have a number of steps you can take to get involved here. Stopping the TPP is a critical battle for the future of the nation and the planet. It is one the people can win but only if we are organized and mobilized. We are building on a large foundation of mobilized people. Join us now to get involved with the movement of movements that is working to return power to the people and defeat transnational corporate power.