Reprinted from Counterpunch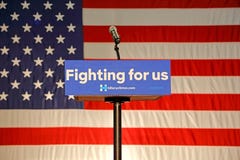 Hillary Clinton Sign
(
Image
by
dreamstime.com
)
Details
DMCA
Hillary Clinton's strategy for the general election is to try to peel away anti-Trump Republicans. That's why we are seeing her move to the right.
Sorry, Bernie Sanders supporters. She's just not that into you.
To those of us who have been paying attention, Clinton's post-primary migration toward conservatism comes as no surprise. There's a reason her campaign appealed to progressives primarily by referencing her work for the Children's Defense Fund in the 1970s, when David Bowie was an up-and-coming glam rocker. Team Clinton had to go that far back to find evidence of her supposed liberalism.
Nevertheless, many lefties drawn to the Sanders campaign have been struggling to convince themselves that voting for the She-Wolf of Goldman Sachs is acceptable because (a) Trump and (b) somewhere down deep under Hillary's Dr. Evil outfits there's an adorable Bernadette waiting to get out and do some good for the world.
Now we have three crucial pieces of evidence that proves that that's wishful thinking.
First came the revelation that her hawkish approach to foreign-policy sprang not out of the vacuum but from her hobnobbing with a bunch of disreputable neoconservatives who belong in prison rather than advising a possible future president: war criminal Henry "Secret Bombing of Cambodia" Kissinger, Iraq War schemer Robert "Project for a New American Century" Kagan, Bush deputy secretary of state Richard Armitage and Max Boot, renowned as the unstupid neocon.
The second tell was her back-and-forth flip-flopping over the TPP, the Trans-Pacific Partnership or "free trade" agreement designed to destroy whatever is left of America's manufacturing industry. As Secretary of State, she was for it. Under pressure from Bernie, she came out against it. Now her minions on the Democratic platform committee have arranged to omit her supposed opposition to TPP from the platform -- and her pick for vice president, Virginia Governor Tim Kaine, is a virulent supporter of outsourcing American jobs. She'll sign the TPP.
Kaine, a conservative "Third Way" Democrat in the, well, Clinton mold, is the third giveaway. "If Clinton has reached out to Bernie supporters, it appears that she has done so to stick triangulating thumbs in their eyes," commented progressive icon Normon Solomon.
If your Democratic Party is the party of FDR and JFK, Clinton's predictable return to her right-wing roots is a betrayal of core values. Working people need one of America's two major political parties to care about them.
But even if all you care about is winning, and defeating Donald Trump is Job One because you're that kind of pragmatist, this rehashed Dick Morrisism of the 1990s looks like political suicide. It comes down to a simple question: where is there more potential for Hillary Clinton to expand her voting base? Among progressives who supported Bernie Sanders? Or among anti-Trump Republicans?
My instincts say -- scream! -- the former. As the cliche goes, Democrats fall in love and Republicans fall in line. As we saw last week in Cleveland, Republicans (Paul Ryan, Marco Rubio) who swore swore swore that they would never support Donald Trump wound up doing exactly that. Republicans are wired for obedience, conformity, rah rah rah.
Not to mention, for mysterious reasons entirely outside the historical record, they're convinced that Hillary Clinton is a radical socialist communist feminist and they hate her for it. (If only.)
Like Fox Mulder in the X-Files, Bernie's people want to believe. Most are scared of Trump, but they need some concessions before saying #ImWithHer: a promise to back a federal $15 an hour minimum wage, a public option in the Affordable Care Act, free public college tuition, fewer wars.
Let's do a little back-of-the-envelope arithmetic.
(Note: You can view every article as one long page if you sign up as an Advocate Member, or higher).