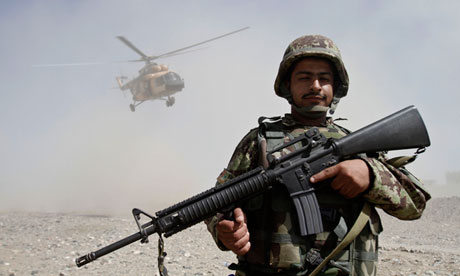 Copyrighted Image? DMCA
Exclusive: Redeployment of some troops might be accelerated, says Nato chief, who admits 'green on blue' attacks have hit morale - The retreat of western forces from Afghanistan could come sooner than expected, the head of Nato has said as he conceded that the recent Taliban strategy of "green on blue" killings had been successful in sapping morale.

In an interview with the Guardian Nato's secretary-general, Anders Fogh Rasmussen, responded to pressure for a faster withdrawal from Afghanistan by stating that the options were being studied and should be clear within three months.

"From now until the end of 2014 you may see adaptation of our presence. Our troops can redeploy, take on other tasks, or even withdraw, or we can reduce the number of foreign troops," he said. "From now until the end of 2014 we will see announcements of redeployments, withdrawals or drawdown ""