Articles Listed By Date
List By Popularity
(13 comments) SHARE

Thursday, July 10, 2014
Declare Your Independence From the Fascist Political Duopoly NOW!
This article is a continuing one in my series of blogs that the U.S. is at a crisis point in the defunct nature of our political system. The U.S. is no longer a democratic republic and our elected officials do not represent us. A populist movement must coalesce combing the forces of "progressives" who want to get us out of this morass before it's too late to become a fascist empire on a course of self destruction.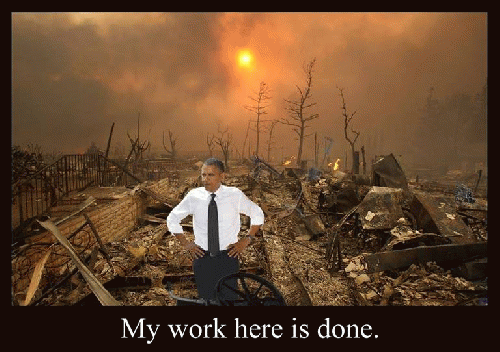 (9 comments) SHARE

Monday, December 16, 2013
Why Americans Must Demolish the Political Two-Party Duopoly!
This article describes the dire situation that has been created by the two-party duopoly. It is absolutely necessary that Americans destroy and end that duopoly, which is no more than an instrument of the corporate fascists who are trying to control every aspect of our society, including the privatization of every public function. There is little time to develop a cadre of activists who will oppose them on every front.
(2 comments) SHARE

Saturday, July 6, 2013
Why Barry Can't Lead; The Emperor Has No Clothes
This article describes in some detail the specific actions and behaviors of President Obama during his time in office that document he has been an extremely poor leader. We are only beginning to experience the consequences of a very poor choice, coupled with the total incompetence and corruption of the two political parties.
(5 comments) SHARE

Thursday, March 21, 2013
"Clean Coal" is a Sci-Fi Wet Dream of Desperate Electrical Utilities
This article describes the incredible impending disaster and hardships about to be placed on Southern Mississippi residents by a corporate power which has gained control over at least two branches of the MS government. Right now we rest in the hands of the MS Supreme Court to prevent this disaster from coming to play.
(1 comments) SHARE

Tuesday, February 5, 2013
How to be Successful at Corporate Fascism: Exhibit I, Mississippi
This article describes a discrete example of a tragedy of corporatism in the small state of MS but it has huge consequences. While we may be making good progress, these battles are never over 'til they're over!
(1 comments) SHARE

Friday, January 11, 2013
Rep. Steven Palzzo's Vote on Sandy Relief
This article describes the incredibly unpopular vote of a Congressman from a conservative state which has received incredible benefits from the federal government. Mr. Palazzo has shown he is only interested in furthering his own interests at the expense of his constituents and the rest of the nation.
(1 comments) SHARE

Friday, December 14, 2012
Will We Fall Off the "Fiscal Cliff" Before the "End of the World?"
This article describes the insanity coming from Washington and how the public is being deceived and misinformed. It discussed the chronic corruption occurring with both political parties working with the corporate media to create drama which is caused from their own incompetence.
(3 comments) SHARE

Monday, November 26, 2012
Ex Governor Haley Barbour's "Love Affair" With the Mississippi Power Co.
This article just begins to explain the corporate corruption that has gone on in MS politics under the former Governor Haley Barbour. Much more will be disclosed.
(17 comments) SHARE

Monday, November 12, 2012
NOW IS THE TIME! To Form an Independent Progressive Political Party
This article describes the urgent need to form a "third party" in the U.S. committed to progressive thoughts and actions. It rejects the idea that these will come from the two party duopoly.
(3 comments) SHARE

Tuesday, October 30, 2012
Weapons of Mass Distraction: Are We Becoming an Orwellian Nation?
An article which asks the reader to examine the relationship between George Orwell's classic book "1984" and how the U.S. is becoming a totalitarian nation state. The connections should be obvious to most but I ask it as a rhetorical question rather than state a fact.
(11 comments) SHARE

Sunday, October 21, 2012
Clear and Present Danger: The Corporatist Two Party Duopoly
In this election cycle of 2012, we are being reminded again of how totally dysfunctional our political system has become. In the four years since Barack Obama was elected, he has proven the old adage, "The more things "change' the more they remain the same." And Albert Einstein told us long ago, "Insanity is doing the same thing over and over again and expecting different results."