Articles Listed By Date
List By Popularity
(1 comments) SHARE

Friday, April 30, 2021
Shocking US Preventive Services Task Force Position on Vitamin D
The US Preventive Services Task Force has refused to recommend routine Vitamin D testing for adults. This is despite the fact that 42% of American adults are deficient and there's decades of evidence that vitamin D deficiency is associated with disorders of heart, immunity, mood, bone, pain and all cause mortality. Whose interests are they protecting? What you can do.
(9 comments) SHARE

Sunday, January 3, 2021
The Suppression of Alternative Medicine is Killing Us
The suppression of alternative medicine has been going on since the Salem witch trials of 1692 and continues today with the suppression of critical information that would save hundreds of thousand of lives during the current pandemic. The motive is greed.
SHARE

Sunday, November 20, 2016
What a Trump Presidency Will Mean for Health Care
What will a Trump Presidency mean for access to health care? It isn't good. There's still a chance to avert a disaster.
(1 comments) SHARE

Saturday, April 2, 2016
Despite Opioid Disaster, Feds Continue to Ignore Alternative Pain Treatments
The federal government needs to make sure safe, effective, affordable pain treatment is available, not just limit opioids.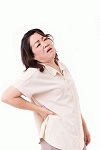 (1 comments) SHARE

Thursday, November 5, 2015
The Truth About Chronic Pain Treatments
This OpEd piece discusses the safety and effectiveness of a range of chronic pain treatments and the barriers that organized medicine has erected to restrict access to safe, effective therapies. It concludes with a legislative proposal to ensure better care for pain patients