SHARE

Cindy Perlin (View How Many People Read This)


Become a Fan.
You'll get emails whenever I post articles on OpEdNews
Cindy Perlin is a Licensed Clinical Social Worker, nationally certified biofeedback practitioner and the author of The Truth About Chronic Pain Treatments: The Best and Worst Strategies for Becoming Pain Free. She is past president of the Northeast Regional Biofeedback Society. She lives and works in upstate New York, where she has been helping her clients achieve their health and wellness goals for 25 years.
OpEdNews Member for 231 week(s) and 2 day(s)
3 Articles, 0 Quick Links, 9 Comments, 0 Diaries, 0 Polls
Articles Listed By Date
List By Popularity
SHARE

Sunday, November 20, 2016
What a Trump Presidency Will Mean for Health Care
What will a Trump Presidency mean for access to health care? It isn't good. There's still a chance to avert a disaster.
(1 comments) SHARE

Saturday, April 2, 2016
Despite Opioid Disaster, Feds Continue to Ignore Alternative Pain Treatments
The federal government needs to make sure safe, effective, affordable pain treatment is available, not just limit opioids.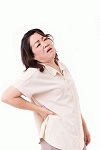 (1 comments) SHARE

Thursday, November 5, 2015
The Truth About Chronic Pain Treatments
This OpEd piece discusses the safety and effectiveness of a range of chronic pain treatments and the barriers that organized medicine has erected to restrict access to safe, effective therapies. It concludes with a legislative proposal to ensure better care for pain patients