Articles Listed By Date
List By Popularity
(1 comments) SHARE

Saturday, October 10, 2020
From scarcity to abundance
Is a humane and sustainable economy possible? And what will it take to get there? It is possible. But will be a complete shock. And if interest rates can be negative, the economy will probably recover soon, but things will never be the same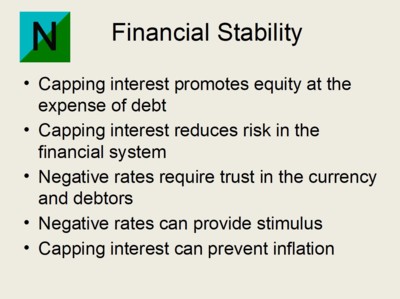 SHARE

Monday, September 23, 2019
Financial Stability Hypothesis
Interest rates may soon go negative. If that happens then it might be possible to make the financial stable by ending interest on money and loans.
(1 comments) SHARE

Wednesday, September 4, 2019
A tale of two economic forces
Negative interest may be here to stay. Why? That is a tale of two economic forces: capitalist spirit and time preference. They are major drivers of wealth inequality. The supply of capital and money is overwelming demand.
(1 comments) SHARE

Saturday, March 9, 2019
Close To The End Of Usury
Interest rates may go negative and remain negative in the future. This offers an opportunity for a reform of the financial system. It could be the end of usury.
(5 comments) SHARE

Saturday, October 7, 2017
Multiculturalism Is One Of The Greatest Successes Of All Time
One of the most successful ideas ever is multiculturalism. It is now near its final victory.
(71 comments) SHARE

Sunday, February 28, 2016
Negative interest rates: the economic singularity
Negative interest rates are nothing to be afraid of. They could bring an era of stable economic growth and prosperity.
(6 comments) SHARE

Friday, September 27, 2013
In the future there will be no interest on money
Interest on money causes financial instability and contributes to economic cycles. Banning interest on money causes problems because interest on money also reflects the return on capital. The increased economic efficiency of such an arrangement ensures that there will be no interest on money in the future.
SHARE

Wednesday, May 16, 2012
Natural Money Bomb: an insidious way to blow up Wall Street
The financial system is finished when a few people follow this plan. It has been tried in the past and it was a spectacular success. The scheme generates employment and ends financial slavery. Governments have banned it because it is a threat to the financial system.
(1 comments) SHARE

Tuesday, May 1, 2012
The Threat of a Good Example
This example of Wörgl during the Great Depression shows that the current financial system ruled by the top 1 percent can be replaced because a more efficient option is available.
SHARE

Friday, June 5, 2009
Interest and credit: the root cause of economic problems
Interest and credit are the root cause of many economic problems and especially the current collapse of the financial system. However all problems can be solved easily within a few months.
SHARE

Sunday, March 29, 2009
Conversion plan to the natural money financial system
In a previous article I outlined the natural money economic system that is far more efficient than the current economic system. This system will get the economy out of depression in a short time and will generate constant economic growth at maximum potential. In this article I will outline the conversion from the current system to the natural money economic system.
SHARE

Saturday, November 29, 2008
Troubles in Paradise
Something was wrong in paradise. You can now read what it was.
(7 comments) SHARE

Monday, November 17, 2008
Paradise Found
The greatest lie ever conceived, has now been uncovered. This will kick into gear a sequence of events that will change the conscience of mankind.
(40 comments) SHARE

Tuesday, November 4, 2008
A far more efficient economic system is possible
12 steps to freedom and wealth If an economic system is more efficient, it does not matter what I think or what anyone else thinks. It will be implemented as soon as the knowledge is there. Competition and market forces will then replace the current system. The only question is: Is this theory correct or is it not? I am quite sure it is correct.