Articles Listed By Date
List By Popularity
(4 comments) SHARE

Tuesday, June 1, 2021
The Big Con
Because Palestinians resisted having their lands and homes stolen by Israelis, its Zionist government inflicted yet another in their series of murderous assaults on that captive, victim people. This barbarity it pretends to justify on grounds of "self defense."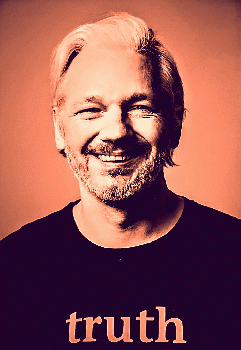 (4 comments) SHARE

Tuesday, November 3, 2020
Assange And The Empire
There is no need to inform the conscious world that the United States is applying all its power and influence to extradite Julian Assange from England in order to put him on trial in America.
(3 comments) SHARE

Saturday, June 15, 2019
Manufacturing Coma
Noam Chomsky and Edward Herman's Manufacturing Consent, published in 1988, was a ground-breaking, comprehensive analysis of the processes used by American government to persuade citizens to approve whatever witches' brew of deceit, crime, and murder the ruling elite elected to perpetrate. Today that idea has a quai
SHARE

Thursday, May 30, 2019
Idiocracy
The naive cry out for answers to our absurd paralysis, but there are none. Cassius said the fault is not in our stars but in ourselves that we are underlings. History is a tale of failed societies that lacked the will to save themselves, so our impotence is not unique. Perhaps then, given the vast catalogue of our self-inflicted disasters, the question is not how we can be saved, but whether we should be.
SHARE

Tuesday, April 9, 2019
The Anti-Semitic Con
Since American politics is mortally corrupt, one might wonder why bother to expose one prime cause of its ethical degeneracy. With the Putin/Russia Collusion Fairytale debunked, the undeniable cancer of real foreign interference in our government demands an honest airing.