Articles Listed By Date
List By Popularity
(1 comments) SHARE

Saturday, March 12, 2011
Dozens of US states declare war on workers' rights
An analysis of pending legislation in dozens of US states makes clear that both the Republican and Democratic parties are pursuing an agenda whose central aim is to eradicate the ability of workers to resist wage and budget cutting.
(1 comments) SHARE

Friday, February 11, 2011
Egyptian military tortured, "disappeared" thousands of demonstrators
According to Human Rights Watch, at least 302 Egyptians have been killed in the protests, the vast majority of these at the hands of the security forces, pro-government thugs and the military. Heba Morayef, a researcher for Human Rights Watch in Cairo who participated in the count, said that the ultimate number will likely be far higher.
(1 comments) SHARE

Sunday, December 19, 2010
Social inequality in America: Tax law will overwhelmingly benefit the wealthy
The claim by President Obama and Congressional Democrats that the new tax law is an economic stimulus that will benefit working class people is a lie. It is a law tailored to benefit the extremely wealthy. There is no reason to believe that Democrats will reverse these tax cuts in two years' time, when Republicans will control the House of Representatives.
SHARE

Thursday, November 25, 2010
Thanksgiving in America: US corporations shatter profit records
The corporations and banks are sitting on a cash horde in the trillions of dollars. This money is not being used to hire workers, but to line the pockets of the executives and top shareholders. The lame duck 111th Congress putting the finishing touches on two years of wealth redistribution to the rich. It is almost certain to extend Bush-era income tax cuts for the richest Americans.
(6 comments) SHARE

Wednesday, November 10, 2010
No explanation for apparent missile firing near Los Angeles
The lack of any official explanation for the apparent launch of a missile off the coast of Los Angeles Monday evening is both troubling and suspicious. he non-explanation, combined with the virtual silence of the national media for most of Tuesday, suggests that the incident is far more serious than its treatment by both the government and the media would suggest.
(1 comments) SHARE

Wednesday, October 6, 2010
UAW, GM slash workers' wages by half at Michigan plant
Setting a new wage-cutting precedent, the United Auto Workers (UAW) on Sunday announced that 40 percent of current workers at the General Motors Lake Orion plant will work at about $14 per hour, half the standard wage, once the temporarily idled Michigan factory begins production on a new line of small cars.
(5 comments) SHARE

Saturday, October 2, 2010
Victim of FBI Raid Speaks Out
Those raided by the FBI are clearly under attack for constitutionally protected political speech. The raids and grand jury hearings, at which those subpoenaed do not have the right to counsel, represent a frontal attack on democratic rights and a major step in the direction of police-state forms of rule.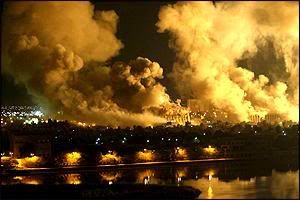 SHARE

Saturday, July 24, 2010
Cancer rate in Fallujah worse than Hiroshima
the people of Fallujah are experiencing higher rates of cancer, leukemia, infant mortality, and sexual mutations than those recorded among survivors in Hiroshima and Nagasaki in the years after those Japanese cities were incinerated by US atomic bomb strikes in 1945. a high proportion of the weaponry used in the assault contained depleted uranium, a radioactive substance used in shells to increase their effectiveness.
SHARE

Saturday, July 3, 2010
US Congress withholds billions from Medicaid, jobless benefits
The failure of Congress to pass a bill containing Medicaid relief to the states and jobless benefit extensions to millions of long-term unemployed workers ensures that the social crisis will intensify in the coming weeks and months. The decision will result in a new wave of foreclosures, evictions, homelessness and hunger, while states will be compelled to further slash social spending.
SHARE

Thursday, April 8, 2010
Obama Orders Assassination of US Citizen
As military tribunals resume at Guantánamo Bay Naval Base, Obama decides to make a bit of history by using a perk he inherited from vice unitary executive Cheney- assassination.
(4 comments) SHARE

Saturday, April 11, 2009
The Obama administration and torture
The CIA Director scrambles to conceal some really bad and probably illegal behavior on the part of his agency.