Reprinted from Wallwritings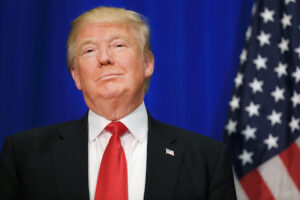 The moment on the debate stage which was most revealing was not one of Donald Trump's nervous deep breaths.
The most revealing moment came immediately after the debate ended. Hillary Clinton moved quickly down the steps to greet supporters who were rushing to shake her hand.
Donald Trump waited until his family and two aides joined him on the stage. He stood there briefly for photos. Then, the most uninformed and politically inexperienced nominee in the nation's history, left the stage.
On November 8, Donald Trump could receive full control of this nation's nuclear arsenal.
Dare we trust him with such awesome power? Dare we trust a man about whom we know virtually nothing other than what we have seen on television reality shows, or promoting beauty contests?
Who are his friends? Who whispers into his ear? Or, as they say in Chicago politics, "who sent you"?
Donald J. Trump claims to be a highly successful business corporate executive who builds buildings and makes huge sums of money.
How is he viewed among his fellow corporate executives? A study of campaign contributors by the Wall Street Journal discovered a revealing fact about Trump.
"No chief executive at the nation's 100 largest companies had donated to Republican Donald Trump 's presidential campaign through August, a sharp reversal from 2012, when nearly a third of the CEOs of Fortune 100 companies supported GOP nominee Mitt Romney."
This news will delight Trump's fervent anti-corporate fan base. But what does it say about Trump's standing in the business community?
In Monday's debate at Hofstra University, Trump demonstrated his personal "bluff and bluster" style when he reiterated his primary campaign's repeated display of ignorance of foreign policy issues.
Japan Times staff writer Ayako Mie reported an example. Of special concern to Ayako Mie is that Trump so flippantly disregarded decades of diplomatic understanding of a defense issue of deep interest to the Japanese. Mia wrote:
"Trump reiterated his position that U.S. allies -- including Japan -- must dole out more cash if they wish to continue being protected by the U.S. military, a stance the real estate mogul has maintained since his campaign's start and one that has deeply troubled America's partners.

"'They do not pay us what they should be paying us because we are providing tremendous service and we're losing a fortune,' Trump said. 'We can't defend Japan ... they may have to defend themselves or they may have to help us out..."
(Note: You can view every article as one long page if you sign up as an Advocate Member, or higher).