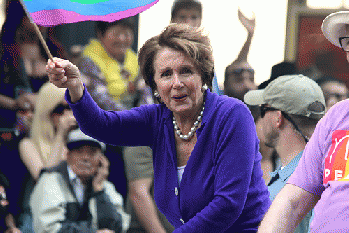 Nancy Pelosi

(

Image

by

quinn.anya

)

Details DMCA

Seriously.

It looks like the Republicans are going to back Trump, which will, in my opinion, lead to a disaster for them in the 2018 elections. I think it'll be a piece of cake impeaching Trump. The challenge will be to impeach vice president Mike Pence. If a case can be built that his collusion with Trump was an impeachable offense, if his lying about Flynn's being involved with Russia... and whatever else can be dug up, then, it could be that the Democrats, if they can take back the House and Senate, could impeach both Trump and Pence.

That would put the speaker of the House, in that case, a Democratic Speaker, the next in line to be president. If Nancy Pelosi continues to hold the leadership of the Democrats, she could become president.

Of course this hypothetical chain of events would require the Democrats to function ethically, intelligently and for the people, not the corporations. The odds of that happening are not great. But if a miracle happens, this fantasy could become a reality.

I'm not a fan of Nancy Pelosi. I wouldn't be surprised if she retires after this session of congress. She' not the person she used to be. If Pelosi is not the Speaker after the 2018 elections, it's very unlikely that a progressive will get it, unless progressive organizations-- Our Revolution, Justice Democrats, MoveOn, PDA, etc., get out and successfully field candidates to primary the surfeit of corporate democratic incumbents.

Timing for this would be very important.

If the Dems take back the House and Senate Trump's impeachment is almost certain. The challenge will be to also take down Mike Pence. If that can be done-- and I think it can-- he's dumb enough to screw up-- then the Republican hold on the White House and the House and Senate could be turned around in two years.

Or people like Debbie Wasserman-Schultz and Hillary Clinton could step in and help the Democrats lose big again.