(Update, February 1, 2011: An FCIC document, completed on August 9, 2010, mirrors the analysis set forth below. It also put all commissioners on notice that the Peter Wallison's core thesis, set forth in his dissent, was invalid.)
It's obvious why other Republicans on the FCIC were unwilling to attach their names to Peter Wallison's magnum opus. They don't want to set themselves up for ridicule. It's one thing to be an apologist for the Wall Street and its abuses. It's quite another to promote an alternate reality. Wallison's "report" is essentially a rehash of articles and op-ed pieces put out by the American Enterprise Institute over the past two years. He draws conclusions from "data" that almost nobody else considers valid.
It's all there in the first paragraph of his summary, and in his chart below:


Although there were many contributing factors, the housing bubble of 1997-2007 would not have reached its dizzying heights or lasted as long, nor would the financial crisis of 2008 have ensued, but for the role played by the housing policies of the United States government over the course of two administrations.

As a result of these policies, by the middle of 2007, there were approximately 27 million subprime and Alt-A mortgages in the U.S. financial system--half of all mortgages outstanding--with an aggregate value of over $4.5 trillion.4 These were unprecedented numbers, far higher than at any time in the past, and the losses associated with the delinquency and default of these mortgages fully account for the weakness and disruption of the financial system that has become known as the financial crisis.
Defining "Subprime" and "Alt-A" The AEI Way
Almost nobody else uses Wallison's unique definitions for "subprime" and "Alt-A," not the GAO, not the St. Louis Fed, not the Dallas Fed, not the Federal Housing Finance Asoociation, not the Mortgage Bankers Association, not the New York Fed, not Moody's, not Lender Processing Services, not Inside Mortgage Finance, not CoreLogic, not the rest of the FCIC. That's why nobody else calculates the number of nonprime mortgages to be anything close to 27 million.
For almost everyone else, "subprime" or "Alt-A" are categories that, when taken together, represent a small percentage of the U.S. total. For instance, LPS, using own definitions, calculates that 4.1 million subprime loans, combined with 2.7 million Alt-A loans, represented about 13% of the U.S. total as of May 2010.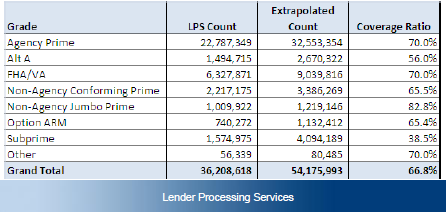 Edward Pinto, who devised the AEI definitions and calculated Wallison's numbers, is clear about what he did. He began with his estimates of "self denominated" subprime (7.7 million) and Alt-A loans (1.1 million), which he claimed to have totaled 8.8 million, and then, by using his expansive definitions, tripled that number, to 26.7 million.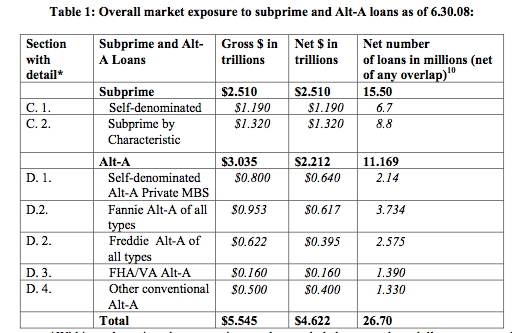 Source: "Sizing Total Exposure to Subprime and Alt-A Loans," by E. Pinto
How The GSEs Compare To Everyone Else
LPS calculates that the performance of Agency Prime loans perform exponentially better than all other categories of mortgage loans, and FHA loans perform a lot better than either Alt-A of subprime loans (as defined by LPS).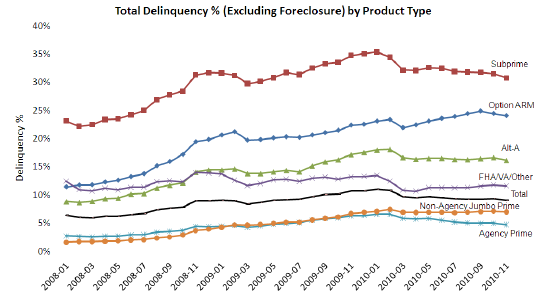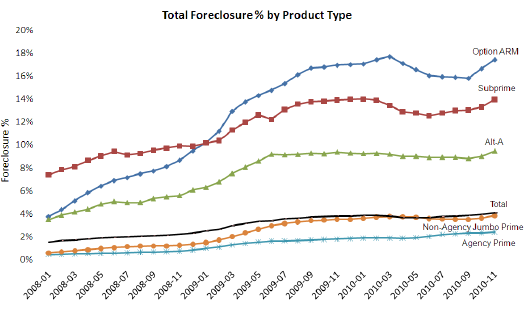 (Note: You can view every article as one long page if you sign up as an Advocate Member, or higher).