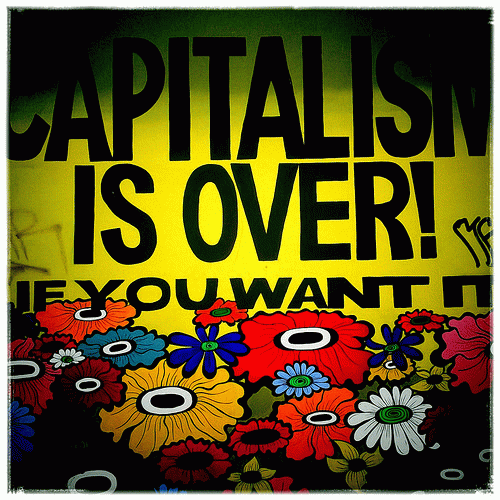 Capitalism is Over
(
Image
by
Photographing Travis
)
Details
DMCA
Between the Crustaceous and the Paleocene Periods, an asteroid" something, killed the dinosaurs.
Also, Diane Feinstein has been honing her legislative skill for over 30 years. Years when air was priority and America's CO2 emissions rose 10%, anyway.
Today's young will lose almost 2 years of their lives to smog. It's about to surpass tobacco as a life-reducer, and only cancer and diet impact lifespans more. Combined with other pollutions, it's #1, reducing their lives by more than 4 years. [i] But when they came to her door, she scolded their manners, then dismissed them.
Nancy Pelosi was more-concise. -At least for someone who's not sure if the "Green New Deal or whatever you call it" is called the 'Green New Deal'. Her advice to students, gauche enough to ask why the system that made her a billionaire can't even keep them alive: "We are capitalists. Deal with it."
Deal how? It escapes them that Trump wreaks havoc while he's in office. (Greenhouse gas spiked 3.4% in 2018.) Meanwhile, the Mueller investigation is running out of the steam it probably never had, and it's still two years until we (don't) elect another of those gropers they're so hellbent on running.
Trump and Right-Republicans want capitalism to live on, and honestly think it can, provided certain of us go extinct. The Democrats just want it to outlive them. They mean, in both respects, to leave a scorched-earth.
Perhaps, since they're still honing their crustaceous politics, I should feel more guilt saying: 'welcome Paleogene'. But I don't.
Climate change is generational war. And while AOC has proved a formidable celebrity (if not yet their feared, one-woman eco-Comintern), youth, alone doesn't stick us all in the right trench.
Take avocadoes. There's fear we'd run out, should Trump close the border. But it wasn't Trump driving it, since we know he only speaks in histrionics. And, as with NAFTA, corporations get to decide, anyway. Yet all the Party mouthpieces jumped at the story.
Erstwhile, Mexico has been facing severe droughts, along with higher irrigation needs since NAFTA prompted massive development of forested and marginal land, so farmers might adjust for lower selling-prices with more production. Avocadoes drink twice the water of most produce, and several that of corn. They also use more fertilizer. Americans eat triple the avocadoes they ate prior.
Mexicans eat triple the high-fructose corn syrup (pouring in from the US), which explains their rising obesity. [ii] (Recall, cancer and dietary risks kill more than air pollution. But all three are climate-policy matters.) Obviously, corn trucked from the US has multiple times the carbon footprint of local corn, once raised by the now-avocado farmers.
- Advertisement -
In other words, left to the market, corn and avocadoes -indigenous to Mexico- became invasive-species in Mexico; killing land, forcing migration, making crises there and here. Who from that list are liberals scurrying to protect? The market.
But that's, dare I say, the point of Trump. He makes an offense like NAFTA defensible.
Mind, NAFTA, itself isn't forefront this election. But if things go as wrong as the DNC plans, it will be another fixed-match with neoliberals hogging the Left corner. No one wants to commit to a Green New Deal, but half-measures are sure to garner votes against Trump, the world-killer, on the Right. Half-measures will kill us, too, since, from here on, climate policy will dictate how we structure national security.
Trump's border ploy, even if hot-air, frightens us because it means a militarizing both sides. Liberals don't want that. They only want it there. Waterboard them with corn-syrup until they forfeit their avocadoes. Eat our toast with a blind eye.
Ironically, Trump is the one playing fair; wrecking life on both sides of the wall, while the globalists have (flawed) plans to wreck just one side.
Let me shift analogies. 2020 is a chance to make or not make: a) everything north of the Rio Grande as dry and barren, and policed, as Israel. b) south of it into Gaza.
That's not hyperbole. (Recall we took almost as much of Mexico in 1848 as they claim of Palestine.) Israel has one of the world's highest standards of living in economic terms. Yet Israelis live in indefinite crisis. Their 'rights' and 'freedoms' on loan from the military (having never ratified a constitution), because no amount of wall can withstand the equation a and not b.
So, who will lead us out of the desert?
Not coincidentally, this week a hit piece in the Washington Post called Bernie the "Trump of the Left". "Less-hateful, perhaps," since he's "scapegoating the 1% instead of immigrants." (author's words, emphasis mine)[iii] Bernie's against NAFTA. The author has ties to the Hickenlooper campaign. Colorado exports roughly $209 million worth of beef to Mexico a year tariff-free. Before NAFTA, Mexico levied a 20-25% tariff on beef imports. Colorado's beef industry launched Hickenlooper's campaign.
Still, Hickenlooper's not in the lead. Beto supports NAFTA. Beto just got a lot of alt-points for calling Netanyahu a racist. (Liberal Israelis think that too.) He also voted for Trump's military budget, belongs to Republican donors and defers to his music tastes to get elected. (That used to make you Paul Ryan, not the front-running Democrat.)
Still, Beto might not stay in front. And while it's shocking that Joe Biden had to actually-rub someone the wrong way to rub us the wrong way, he's out of the race.
Peter Buttigieg just raised $7million, much from donors like Clinton financier, Martha Whetstone, who said he reminds her of a 'young Bill'. He would be our first millennial president. Being gay and 37 makes him categorically-marginal in terms of politics, yet his subaltern-ness may be what it takes to defeat Trump.
Buttigieg said his candidacy would be about "generational change and would focus on liberty, democracy, and security". Liberty and democracy are deflatable terms in any campaign. But security is an honest to god concern. -Because of what it consumes. And because it guarantees, even if we improve things here, the world stays a mess. Plus, its industries are exempt from going green.
This generation needs a lot less security. (Look it up, no one's joining the army.) But I doubt that's what he means. Buttigieg's a Harvard Grad and Navy commander, too. In terms of actually-governing, those channels are already open.
Buttigieg also said the 'Green New Deal was more of a goal than plan, yet what it has right is that it could ignite the economy'; start a green boon. He's not wrong, the US economy stands to lose $5 billion a year to climate change without it, starting now. Plus, it's hard to imagine a future where the green-innovators are not in the lead.
But Buttigieg's optimism should remind us, capitalism is not a repressive system, it's a voracious one. 'Change' means more markets, more growth. Tack a few letters on to the end of LGBTQ. Capitalism won't mind.
Being in the lead is what got us here. The Green Revolution will self-defeat if anyone is in the lead. We do not need -or want- a competitive solution.
Besides, we've had boons. They multiply the wealth of a few and for a time route unemployment, most-often to the detriment of unions. Then they bust. The last big one threw us out of our homes. The one before that pushed our neighbors out of their homes and sent them (partly) here.
Julian Castro, trailing far behind, and not exceptionally progressive, himself, at least suggests a tandem, Central-American New Deal. That seems inevitable. If we're to have a Green-capitalist New Deal, were going to need markets for our green technology. Including places that can't afford it. That's going to put a lot of people up against our wall (let's hope they pelt us with avocadoes). Unless something akin to the Marshal Plan allows them to remain in their homes and consume American goods.
If you don't want people to leave their homeland, make them want to stay. Instead, Trump just cut aid to Central America. The International Rescue Committee (IRC) has already moved one of its team here (from fighting Ebola in the Congo!) to deal with the mess. But it won't impact business like beef-tariffs would. So, I'm sure it won't be the last time they let Trump's histrionics come true.
By no fault of their own, eventually, the Democrats will replace Trump. They need to support us, not the other way around. Even if we haven't sorted the details, there's no going forward without a Green New Deal. But it can't look to protect what we have.
It should appear a giant asteroid to the old regimes.
---
[i] Health Effects Institute. 2019. State of Global Air 2019, www.stateofglobalair.org.