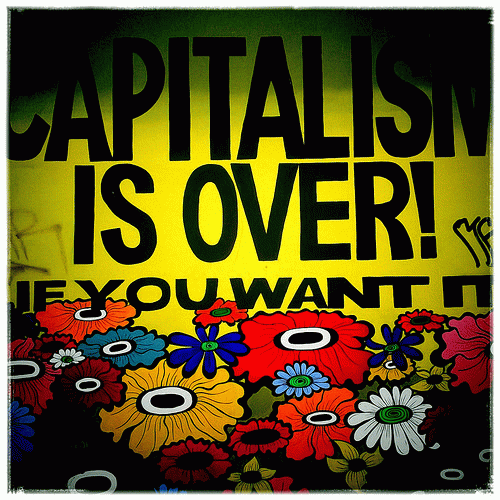 Capitalism is Over
(
Image
by
Photographing Travis
)
Details
DMCA
Between the Crustaceous and the Paleocene Periods, an asteroid" something, killed the dinosaurs.
Also, Diane Feinstein has been honing her legislative skill for over 30 years. Years when air was priority and America's CO2 emissions rose 10%, anyway.
Today's young will lose almost 2 years of their lives to smog. It's about to surpass tobacco as a life-reducer, and only cancer and diet impact lifespans more. Combined with other pollutions, it's #1, reducing their lives by more than 4 years. [i] But when they came to her door, she scolded their manners, then dismissed them.
Nancy Pelosi was more-concise. -At least for someone who's not sure if the "Green New Deal or whatever you call it" is called the 'Green New Deal'. Her advice to students, gauche enough to ask why the system that made her a billionaire can't even keep them alive: "We are capitalists. Deal with it."
Deal how? It escapes them that Trump wreaks havoc while he's in office. (Greenhouse gas spiked 3.4% in 2018.) Meanwhile, the Mueller investigation is running out of the steam it probably never had, and it's still two years until we (don't) elect another of those gropers they're so hellbent on running.
Trump and Right-Republicans want capitalism to live on, and honestly think it can, provided certain of us go extinct. The Democrats just want it to outlive them. They mean, in both respects, to leave a scorched-earth.
Perhaps, since they're still honing their crustaceous politics, I should feel more guilt saying: 'welcome Paleogene'. But I don't.
Climate change is generational war. And while AOC has proved a formidable celebrity (if not yet their feared, one-woman eco-Comintern), youth, alone doesn't stick us all in the right trench.
Take avocadoes. There's fear we'd run out, should Trump close the border. But it wasn't Trump driving it, since we know he only speaks in histrionics. And, as with NAFTA, corporations get to decide, anyway. Yet all the Party mouthpieces jumped at the story.
Erstwhile, Mexico has been facing severe droughts, along with higher irrigation needs since NAFTA prompted massive development of forested and marginal land, so farmers might adjust for lower selling-prices with more production. Avocadoes drink twice the water of most produce, and several that of corn. They also use more fertilizer. Americans eat triple the avocadoes they ate prior.
(Note: You can view every article as one long page if you sign up as an Advocate Member, or higher).