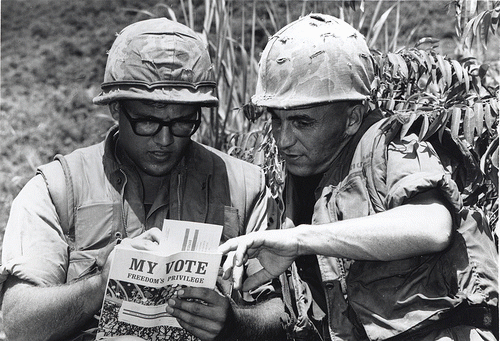 Voting Absentee, Vietnam, 1968

(

Image

by

Marine Corps Atchives and Special Collections

)

Details DMCA


Voting Absentee, Vietnam, 1968 by Marine Corps Atchives and Special Collections


America must have voter ID, Republicans say. Never mind the paucity of evidence of fraud at the polls. Never mind the stiff penalties for illegal voting. Never mind that voters already sign for ballots and that officials compare the signatures with those entered at registration. Thanks to Republican-controlled legislatures, 33 states require voter ID at the polls. Eleven require photo ID, two have laws held up in court, and four have laws that go into effect after this year.

For proof that the real aim is to discourage Democrats, look no further than policies for absentee voters. Republicans give them a free pass.

Of the eleven states with photo ID laws in effect, Florida, Louisiana, Georgia, Tennessee, Idaho, Michigan and Indiana require only a signature on absentee ballot applications, so long as the person previously voted in the state. Pennsylvania and Hawaii require additional ID, but filling in the last four digits of the voter's social security number will do. Only Kansas and South Dakota impose photo ID requirements similar to those for poll voters; mailing a copy substitutes for showing the same ID at the polls.

If Republicans were sincere about battling fraud, absentee voting would keep them up nights. There is plenty of evidence of fraud away from the bright lights of the polls.

Yet Republicans raise no alarm. Why should they? Studies have found no difference in party registration between instate absentee voters and poll voters in California, Missouri and Arkansas, only a slight difference in Ohio. click here

Military and overseas voters follow a different path, but also an easy one. Since the last federal election I moved from Iowa to Australia. On a state of Iowa website Republican Secretary of State Matt Schulz, a Republican who advocates ID for poll voters, smiled and welcomed absentees. Thanks, Matt. He directed military and overseas voters to a Federal Voting Assistance Program website. There I learned we fill out a federal application form, give a driver's license number or the last four digits of our social security number, sign and mail to officials where we last voted. The procedure is the same whatever state counts our votes.

Military and overseas voters can thank both parties for making voting easy, but Republicans go further and wink at possible fraud. In 2001 Congress updated relevant laws. During consideration in the two houses, Republicans proposed six unsuccessful amendments that would have required officials to show clear and convincing evidence of fraud before disallowing military and overseas ballots; the manner in which the ballots were cast would not be sufficient grounds for exclusion.

Under the Uniformed and Overseas Citizens Absentee Voting Act of 1986, the only addition a state may make to federal ID requirements is the signature of a witness. Few states have done so, but in one of them, Virginia, the requirement became an issue during the 2008 presidential election. Senator McCain's campaign cried foul. How dare Virginia place a burdensome restriction on military voting. Listen up, Senator; finding a witness is easier than getting ID.

Not coincidentally, military voters favor the GOP, and overseas civilians probably do, since expatriates tend to be white and of higher than average incomes.

There's a mantra going around, that banks and stores ask for ID and anyone can get one and vote, but the GOP does not apply the logic to absentee voters like me. We could photocopy our IDs more easily than most poor people can get to a place that issues photo ID, yet few of us have to. No, the GOP is going after people who don't have bank accounts and who pay for groceries with cash.

In Pennsylvania one million people lack the required government-issed photo ID, and some counties lack a center that issues them. click here

Voter ID is one prong in an attack on suspected Democratic voters. Swing states have led the charge. There was Florida's attempted voter purge and Ohio's manipulation of early voting hours, measures the courts have so far rejected. A longstanding Ohio law mandates time off from work to vote, but the Republican Attorney General has ruled that a provision guaranteeing pay for the time applies only to salaried employees, not to hourly employees who might lean Democratic.

Republican tactics would fail and America would be a stronger democracy if every eligible person voted, rain or shine and never mind the barriers, but that is not the case, whatever the voters' leanings. The GOP knows they can use the realities of voter motivation to favor their candidates. The aim is to nibble democracy to death, making probable Democratic voters reach the polls over an obstacle course, while those who belong to probable Republican demographics follow a clear and downhill path.