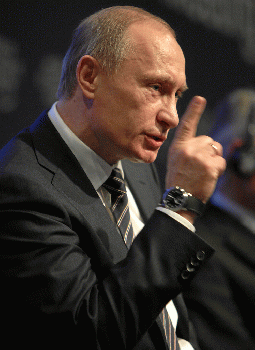 Vladimir Putin - World Economic Forum Annual Meeting Davos 2009
(
Image
by
World Economic Forum from flickr
)
Details
DMCA
Here we are in the midst of a foreign policy crisis, needing to make reasoned but significant choices about options and strategy. It should be a helpful part of any of that discussion to put things into perspective by providing a context.
The tendency is to decide who the "good guys" are, and who the "bad guys" are. Unfortunately, this is usually done by deciding who are seen as our friends and who we have designated as our enemies. This distinction is often based on who agrees with our foreign policy goals and who does not full-heartedly accept and support them. Or who we need for some strategic reason beyond the scope of the current events, like oil production.
We also pretty much refuse to make any comparison with our past actions and those of the "bad guys" in the present moment. What we wish to apply to them now ceases to apply to our past actions since what we do is different because we always see ourselves as the "good guys" therefore justifying our actions.
For instance, we have a long history of being directly involved in "regime change". One needs only need to look at our actions in Central and South America, in Viet Nam, in Iraq, in Afghanistan, not to mention other Middle East nations; Iran comes to mind. We used whatever we found effective whether it was undermining the present regimes with the use of CIA and dark ops, or with direct attacks, most recently in Iraq. Every nation that does this finds similar ways to justify their actions to the world, whether it is purported atrocities and human rights abuses or a populace being unhappy with the present regime.
In the present situation of Russia and Ukraine, part of the issue goes back to the end of WWII. We must remember that the capitalist western Europe had been opposed to the Russian Revolution from the start and was opposed to the very existence of Communism as an article of faith. After the great sacrifices the Russians had made to stop Hitler, probably making WWII winnable for Europe and America, some payback was required. In that context there was an understanding that at the end of the war the USSR was allowed to have a set of buffer states protecting it from the capitalist western Europe in exchange for allowing Greece to go back to a right-wing monarchy at the insistence of the British to protect its shipping in the Mediterranean and the Suez Canal in an attempt to keep its trade with its faltering empire. This was significant since the Greek Communists had defeated the Germans and would have easily retained power.
Ever since then the US and western Europe have tried to expand NATO into many of the countries which had been a part of that buffer. For perspective think of how the US would react if Mexico or Canada were to sign a military treaty with Russia to receive military aid. We have a long history of reigning over all of the Americas from the Monroe Doctrine on, not even allowing any deviation from the US policy, with the exception of Cuba, which we still seem to get apoplectic about every once in a while.
This war in Ukraine is an example of a large national power wanting to protect its flanks by finding ways to dominate or control another nation.
That does not make it right or fair or just, but the foreign policy of most powerful nations rarely is. So, whenever we, as a nation, are identifying the "good guys" and the "bad guys", we must remember that we are not exactly coming from a neutral or objective position, more likely a position that fits our foreign policy desires. We no longer inhabit the moral high ground that we may have had in some, now distant past. It is important to realize that other powerful nations are behaving similarly to the way we have behaved in the past and may well behave again in the future.
Something about pots calling kettles black.