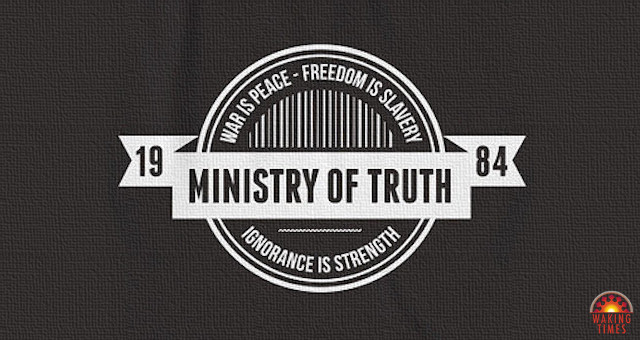 Ministry of Truth
(
Image
by
Our Finite World
)
Details
DMCA
In the country of Oceania, the setting of George Orwell's prescient 1949 novel 1984, the Ministry of Truth is charged with the role of re-writing history according to the Inner Party's ephemeral political interests.
Ministry of Truth employees must be prepared at all times to publicly elevate former traitors to the status of heroes and discount former heroes as traitors.
Any facts that violate the Party's propaganda are discarded down the "memory hole," expunged forever--or at least until the Party determines it is advantageous again for people to accept.
Propaganda is, of course, not new.
Although connotatively negative, it can be employed positively at times.
Every industry uses propaganda in some way to consciously or unconsciously influence public option.
It is not the exclusive province of government.
Orwell, however, was satirizing how government propaganda can be used as ways to control messages so a society being governed remains obsequious or frightened, docile or patriotic, apathetic, violent, or consumeristic.
The United States has engaged in its share of this propaganda.
Last week, it opened its own Ministry of Truth.
At a speech at the National Archives on Thursday, Donald Trump proclaimed:
"Leftwing rioting and mayhem are the direct result of decades of left-wing indoctrination in our schools. [T]he crusade against American history is toxic propaganda [that] will destroy our country...Our mission is to defend the legacy of America's founding, the virtue of America's heroes, and the nobility of the American character. We must clear away the twisted web of lies in our schools and classrooms, and teach our children the magnificent truth about our country. We want our sons and daughters to know that they are the citizens of the most exceptional nation in the history of the world."
Pushing back against The New York Times' Pulitzer Prize-winning "1619 Project," dedicated to chronicling the country's history beginning the year Europeans shipped the first enslaved Africans to American shores, Trump announced the formation of the "1776 Commission."
Trump specifically maligned late historian Howard Zinn, the author of A People's History of the United States, accusing it of being "propaganda" meant to "make students ashamed of their own history."
Back in 2009, during an interview with Democracy Now!, host Amy Goodman asked Zinn to comment on the frequently asked about whether or not it is appropriate to be so critical of the government's policies and its traditional heroes.
(Note: You can view every article as one long page if you sign up as an Advocate Member, or higher).