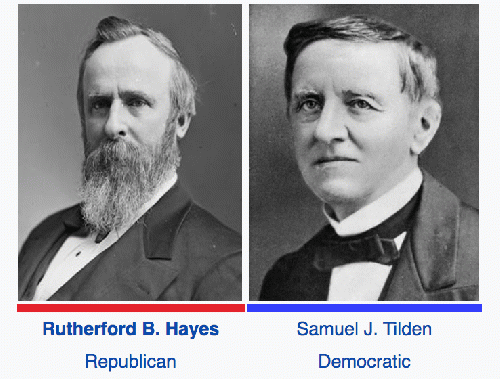 Hayes and Tilden 1875 Presidential candidates
(
Image
by
political history
)
Details
DMCA
Donald Trump and the leadership of the Republican party are aggressively staging a coup, inspired by the 1876 Tilden Hayes election, and the Democratic Party and their mainstream media surrogates, CNN and MSNBC have not yet caught on. They are laughing at a situation that must be aggressively addressed with dire urgency. Mainstream Pundits are smarmily laughing at Trump, when it is they who are the clueless ones.
Mark my words. The 1876 Hayes Tilden election will become a frequently cited element of the news very soon.
It doesn't matter if Trump wins or loses the plethora of lawsuits he and his surrogates are filing across the nation. As long as he slows down the process and delays the finalization and confirmation of state vote counts he will win the election. If even a few Republican run states refuse to certify the vote counts, Biden will no longer have the 270 electoral votes. If that happens, Trump won't have the 270 electoral votes either. Under those circumstances, the election will fall to be decided by the House of Representatives. The process there will hand the victory to Trump.
Thom Hartmann and Greg Palast predicted this possibility earlier in the year.
Now, election integrity activist Jonathan Simon and journalist David Sirota are also weighing in.
Earlier this week, in an interview, Greg Palast explained to me, describing the coup as an "article 2 gambit. Now article 2 of the constitution says that the state legislatures pick your electors. Now i bet you thought we all know we don't actually vote for
president we vote for electors. No, you don't even vote for electors, your vote is purely advisory.
America does not have a democracy. We give advice to each state legislature and the legislatures then determine which electors go to the electoral college."
On May 8th, in an interview on my Bottom-up Show, Thom Hartmann theoretically described what is actually now happening, citing a similar occurrence in the 1876 Tilden Hayes presidential election, where the article 2 Gambit worked to reverse the election.
The thing that

really concerns me about this Rob is the Tilden Hayes election in 1876. This was the first major election before the failure of reconstruction. This this is what led to the failure of reconstruction.
(Note: You can view every article as one long page if you sign up as an Advocate Member, or higher).