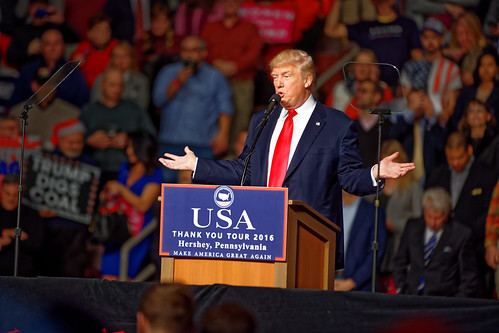 Donald Trump at Hershey PA on 12/15/2016 Victory Tour
(
Image
by
Michael Vadon
)
Details
DMCA
In a small ray of hope, President elect Trump, forced the House Republicans to back down and reverse their secretly made decision to gut the House Ethics Committee.
This is great news, and an embarrassment for the GOP House leadership.
Politico reports,
"Following a public outcry, and criticism from President-elect Donald Trump, House Republicans reversed course Tuesday on drastic changes to the independent Office of Congressional Ethics. House Majority Leader Kevin McCarthy (R-Calif.) offered a motion to restore the current OCE rules, and that was accepted by the GOP conference."
Trump posted two tweets.
With all that Congress has to work on, do they really have to make the weakening of the Independent Ethics Watchdog, as unfair as it at

— Donald J. Trump (@realDonaldTrump) January 3, 2017
and
........may be, their number one act and priority. Focus on tax reform, healthcare and so many other things of far greater importance! #DTS at

— Donald J. Trump (@realDonaldTrump) January 3, 2017
While Trump's appointee choices have suggested that Trump has sold out to the GOP, his tweets today, offer a ray of hope that he will not operate in lockstep with the GOP. It offers hope that he may stand up on some occasions.
Politico observed,
"It's an awkward way for Republicans to start the new Congress -- and not merely because it gives the appearance that they don't value oversight of their own actions. It also steps on their message of the week, which is one of unity and "hitting the ground running" in a new GOP-controlled Washington."
I am not naive. I realize that there was also a huge outcry from constituents. But this was a good thing. Let's hope this small ray of light signifies reasons for hope, that Trump may have some redeeming qualities. It should be supported. Let Trump know that when he does a good thing, even his opposition supports it.
Update:
I've received a few tweets suggesting that Trump doesn't deserve and credit.
@robkall Not really - he questioned the TIMING of the act, not the act itself. Don't give this MF any more credit than he deserves. at
(Note: You can view every article as one long page if you sign up as an Advocate Member, or higher).